Here Are 12 Apps Like Cleo That Will Give You a Cash Advance
Posted on November 10, 2022 in Money
If you're in a hurry and need money fast, there are numerous ways to get cash—but they aren't always the best options. Choosing an alternative cash advance app like Cleo might not be the easiest with so many options, but hopefully by the end of this article one of the 12 other cash advance apps will make more sense for your own financial situation.
---
---
For example, payday loans are notoriously expensive and can cost you more than the amount you borrow. And while a cash advance on your credit card might seem like a good idea at first, it can quickly put you in over your head if you don't pay it back right away.
But there are some apps like Cleo that can help with those problems. These apps give users a small loan without requiring a credit check or any other approval process. They also send the loan directly to your bank account so you can access the funds right away.
And it's not just that you can borrow money on these apps – they have many more benefits you'll love. Here's what makes them different from traditional loans:
They're cheaper (no hidden fees)
They're faster (instant approval)
They're safer (secure transactions)
What Is Cleo?
Cleo is a free artificial intelligence financial assistant that helps you make wise spending decisions.
The app uses your spending patterns and other data to help you make smarter financial decisions. You'll get personalized recommendations for how to spend your money, set up automatic savings plans, and more.
Cleo learns from your spending habits and makes recommendations based on your unique situation. It's powered by machine learning, which means the more you use it, the better it gets at understanding your needs.
How Does Cleo Work?
Once you download the app, you'll need to create an account. Fill out a short profile to help Cleo learn about your financial habits. When you need an emergency cash advance, Cleo will recommend an amount that's right for you. If you accept the amount, it will be automatically transferred to your account and deducted from your next direct deposit.


How Do Cash Advance Apps Like Cleo Work?
Cash advance apps like Cleo are a convenient way to get cash fast. They're a great option if you're in dire need of money before your next paycheck.
The process is simple: You apply online, and once approved, the loan is deposited directly into your bank account in as little as one business day.
Here's how it works:
Apply online — The application process is quick and easy. You'll answer basic questions about your credit history and income to qualify for the best rate on your loan.
Receive funds — Once approved, the funds will be deposited into your bank account within one business day. You can use them however you like — whether for an emergency or to pay down debt.
If you're looking for cash advance apps like Cleo, here are 12 options to consider:
1. Dave
Dave is a personal finance app that helps you stay on top of your spending and save money. You can use the app to find great deals, get cash back at checkout, and even pay down your credit card debt.
Dave users have access to a special feature called Cash Back Rewards. With this feature, you can earn cash rewards just by using Dave's list of participating merchants, even if you don't have good credit!
These loans are only available for people with good credit scores (640+). If you have a lower credit score, Dave might not be suitable for you. As such, we advise checking out our other recommendations below.
2. MoneyLion
MoneyLion is a peer-to-peer lending app that offers short-term loans to help you through a financial emergency. They'll give you up to $1,500 within 24 hours, depending on your state laws and if you have good credit.
If you qualify for the MoneyLion loan, there are no fees or interest rates—the application fee is paid back in your first payment! And since it's an online loan, an app like MoneyLion can get the money into your account quickly, so you don't have to wait longer than necessary.
3. Brigit
Brigit is a digital-first lending platform that helps people get the cash they need when they need it. It provides fast, easy, and convenient loans to consumers looking for a smarter way to borrow.
Unlike most payday loans, an app like Brigit does not charge high fees or interest rates on loans made through its app. Instead, it charges a flat $5 fee per loan request—no matter your credit rating or how much money you borrow—while offering customers cash advances at lower rates than traditional banks and credit card companies.
Brigit's core mission is to offer consumers a better choice than traditional payday lenders when it comes to unsecured personal loans. All you have to do is complete an application in just minutes using your smartphone or tablet device. Once approved for financing at one of their partner banks or credit unions across all 50 states in America, funds will be deposited directly into your account within 24 hours!
4. Earnin
Earnin is a cash advance app that will give you money for completing everyday tasks you do on your phone, like shopping at your favorite stores. This makes it different than an app like Cleo, but it certainely has its advantages for the everyday user.
The app is fast and easy, requiring no hidden fees or bank account. It's available in all 50 states and has no credit check, making it one of the best cash advance apps worth considering.
5. Possible
Possible is a personal finance app that helps you save money, pay off debt and invest in your future. It's free to download and use.
Apps like Possible Finance offer a powerful tool that lets you track all the critical financial decisions you make daily—from how much money you spend on groceries to how much credit card debt you carry. Once it knows what's going on with your finances, the app will help guide you toward better financial decisions by recommending ways to save money or find new investments that fit your budget.
6. LendUp
LendUp is a peer-to-peer lending company that allows you to borrow between $200 and $10,000. You can use LendUp to get a cash advance with your paycheck. The minimum credit score requirement is 500+. With such a higher loan amount, it's important to understand the risks involved in pursuing this option compared to an app more similar to Cleo.
7. Empower Cash Advance
Empower Cash Advance is a mobile app that provides fast cash advances to students and young professionals. You can download the app from the Google Play or Apple App store.
Empower Cash Advance enables you to get up to $500 with a simple application, which takes less than 5 minutes! You don't need any credit cards, and it doesn't require a bank account either.
Using this app is similar to Cleo, as it is straightforward and provides clear instructions on how much money you'll get based on your needs. There is also an option where users can find out if their loan will be approved instantly without having to wait for 24 hours or more, as most other providers do.
8. Ingo Money
Ingo Money is a personal financial services company that provides online loans, prepaid debit cards, and checking accounts. Founded in 2104, Ingo is headquartered in San Francisco, California.
You can apply for a cash advance as soon as you're approved—usually within minutes—and get your money immediately! Ingo Money offers flexible repayment options so you can pay back your loan whenever convenient.
9. FloatMe
The first thing you need to know about FloatMe is that it's completely free. You don't have to pay any fees or charges, and you can get up to $500 in advance of your next paycheck.
There are no credit checks, either. That means anyone who has a job and is 18 years of age or older can use this app!
The app similar to Cleo allows you access to the full amount of your next paycheck—in advance of your actual payday. For example, if you plan on getting paid on Friday but need cash now (for whatever reason), FloatMe will let you access those funds as soon as Thursday night—and then pay back the money in installments over the next 14 days.
10. Chime
Chime is a free app that gives you a cash advance on your paycheck. You can get up to $1,000; if it takes longer than a day or two, they'll send it directly to your bank account. You can pay back the loan over six months with interest. This app is convenient because it doesn't need any credit history or previous loans with them to qualify for their services.
If you're looking for an easy way to get money quickly without having to do much work, this is one of the better options for an app like Cleo!
11. Albert
Albert is an app for personal finance that uses machine learning to help you manage your money. The main feature of this loan app is its spending tracker, which lets you make better shopping decisions by recording every expense. You can also set goals, like paying off debt or saving up a vacation fund, and Albert will encourage you to attain those goals by suggesting smart ways to spend and save.
An app like Albert might be right for you if you're looking for a comprehensive budgeting tool focused on helping you build credit. The app makes it easy to get a cash advance from $300 to $5000 when approved. Once approved for financing, the application process takes about 10 minutes and requires minimal paperwork—just some basic personal information like name and phone number.
12. Klover
Klover is another personal loan app like Cleo that connects you with potential lenders via its online platform. The loans are unsecured, and the maximum amount you can borrow is $1,000. The time it takes to get your money depends on the type of transaction you're making: whether you're applying through mobile or desktop, how much money you want, and so on.
Klover offers two types of loans. One for consumers who want a minimum of $100 and another for those who need at least $300. If you opt for the former amount and apply via mobile or desktop, your application will be reviewed in 24 hours and approved within 48 hours.
If you opt for a larger sum ($300–$1,000), the review process should take 2–3 business days following submission, with approval occurring within 72 hours after filing. There are no hidden fees associated with this service but remember that interest rates vary from lender to lender, so be sure to compare before deciding which one's right for you!
Take Advantage of an App Like Cleo Today
These apps similar to Cleo will give you a cash advance and save you from taking out a payday loan or other expensive loan options.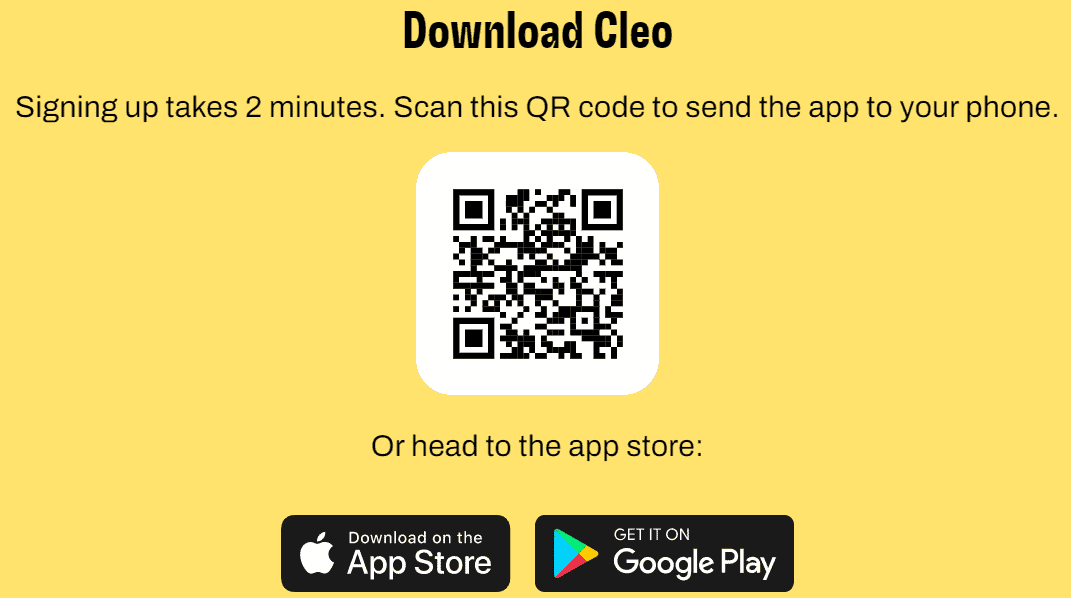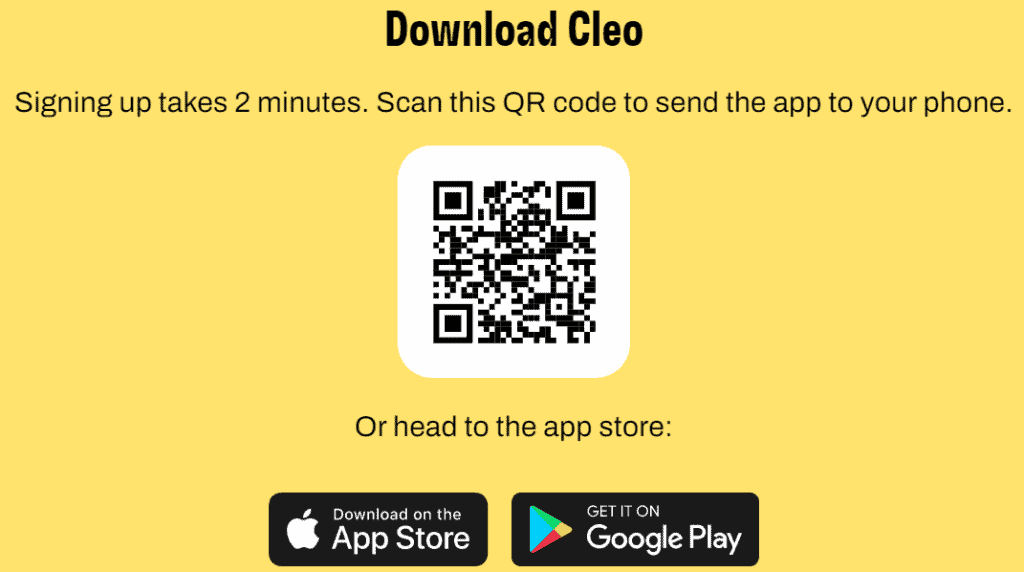 Cash advances can be a much better option than a payday loan or other loan because they don't require the same kind of credit checks and come with much lower interest rates. If you need money, try using one of these apps for a quick fix!
Need expert financial advice?
Let TurboFinance connect you with the best consulting services and resources to help you take control of your finances and find a path to build wealth.
Get A Free Consultation Today!