2023 SmartCredit.com Review: Pros, Cons, Features, and More
Posted on February 22, 2023 in Money
SmartCredit® is an easy-to-use app that enables consumers to reach their full financial potential while gaining greater online privacy through fun and engaging tools. Read our SmartCredit review to learn why SmartCredit.com is a legitimate choice for an all-in-one money, credit, identity, and privacy app, including pros, cons, features, and more.
---
---
What is SmartCredit?
SmartCredit® is a simple all-in-one app empowering consumers to achieve their full financial potential and get greater online privacy with fun and engaging tools. David B. Coulter, CEO of ConsumerDirect®, launched SmartCredit in 2003 by creating and patenting a centralized way for consumers to quickly resolve problems and ask creditors questions without the need to write letters, make phone calls, send emails, or use a chatbot. When an individual joins SmartCredit, they signup, and the first thing they see is that they are more than their current credit score. SmartCredit tools allow users to immediately view their current and future potential credit scores. Today, over 4,000,000 people have joined SmartCredit to get qualified, save money, and reach their financial goals. Take a look at SmartCredit reviews, and read on below to find out more about why their programs might be right for you.
How It Works
Visit the SmartCredit.com website.
Sign up through the enrollment form and enter the requested information.
Select your plan
Start navigating the features of your membership
Key Features and Benefits of SmartCredit
ScoreTracker
ScoreBuilder®
ScoreBoost™
Smart Credit Report®
3B Credit Reports and Scores
Action Buttons
PrivacyMaster®
myLONA™ Offer Wall
Money Manager
$1MM Family Fraud Insurance
Types of Score Tools and How They Work
ScoreTracker allows users to track four scores, including Vantage 3.0 credit score, auto score, insurance score, and hiring risk index for employment. Within each score, users see their graded rating, how they compare to others, the factors impacting their score, as well as actionable advice on what they can do to improve it.
ScoreBuilder is a 120-day plan to better credit. The plan calls out what is helping and hurting a user's score and develops a step-by-step guide to reach their goal score, complete with Action buttons next to each item for direct communication with the source.
ScoreBoost evaluates a user's credit utilization rate by analyzing their credit card accounts and then calculates the amount of points they can gain when they make payments on specified dates designed around the creditors' reporting schedule. As users move the slider to the right, ScoreBoost calculates how many points they can gain by paying off open balances by a specified date. Move the slider to the left to see how spending may negatively impact their score, and ScoreBoost will call out which credit card to use to see the smallest drop in score.
The Smart Credit Report is a simplified single-bureau credit report that allows users to easily toggle through accounts and see a summary of the most critical information at the forefront.
The 3B report shows a user's credit evaluation from all three bureaus – TransUnion, Equifax, and Experian. Unlike other credit reports, this report shows what information matches across all three reports and is equipped with Action buttons to report inaccuracies directly.
Action buttons are found next to every account, transaction, and credit report item so users can take care of everything from requesting a goodwill removal of a negative item to negotiating a more competitive interest rate with the click of a button.
PrivacyMaster continuously scans for data broker websites displaying your personal information and produces a list of those websites for you to review and request removal from with the click of a button.
myLONA Offer Wall makes it easy for users to identify their future borrowing potential and designs a precise plan for getting them there so they can apply for the best possible loans and credit cards at the right time.
Money Manager links your money and credit accounts so you can see all of your transactions, receive instant statements, analyze spending trends, and dispute fraudulent charges in one place.
SmartCredit offers a zero deductible $1 Million Family Fraud Insurance free with a membership that covers incurred costs created by identity theft, including replacement costs for IDs, driver's licenses, and passports, lost wages from missed work, and even legal fees associated with recovery.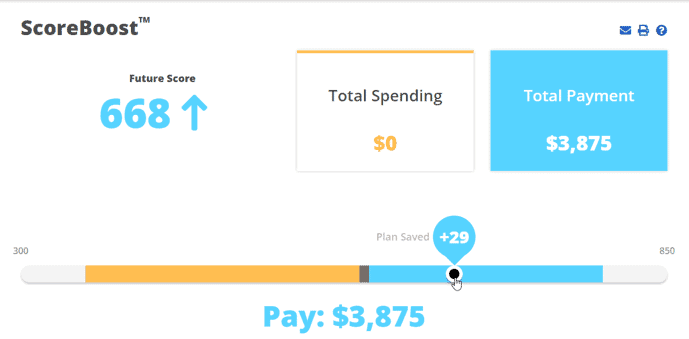 SmartCredit Pros and Cons
Pros:
Offers credit monitoring services through access to the data of multiple credit bureaus
Experian's credit report
TransUnion's credit report
Equifax's credit report
Helps with disputing errors on your credit report
Access your updated credit report anytime you want (depending on plan selected)
Provides $1 Million fraud insurance protection for your whole family
Links online bank and credit accounts
Provides credit monitoring alerts
Directly request the removal of private information from people finder sites
Simulation tool with credit bureau reporting date insights


Cons:
They are not a credit repair company
FICO Scores are currently not available.
Will not help you with freezing your credit report
SmartCredit Reviews
While we didn't find any Google Business reviews of SmartCredit.com, there are many positive ratings of the SmartCredit within Trustpilot, Google Play, and the Apple App store. Of the highlights, the SmartCredit app has been downloaded over 10,000 times on Google play, and currently has a 4.1 star rating based on over 100 reviews. The company also has a nice profile and following on LinkedIn, further displaying how SmartCredit is a legitimate business


How Much is SmartCredit?
You might be wondering if SmartCredit is free. Unfortunately, the answer is no, but that's because there are a ton of great features and benefits that come with their service. With a SmartCredit account, there is a monthly fee that ranges from $14.95 to $19.95, depending on the plan you select.
| | | |
| --- | --- | --- |
| Membership Benefits | Basic | Premium |
| | $19.95 /month | $27.95 /month |
| Smart Credit Report® & Scores | 2 /month updates | Unlimited |
| ScoreTracker | Unlimited | Unlimited |
| ScoreBuilder® | Unlimited | Unlimited |
| ScoreBoost™ | Unlimited | Unlimited |
| Actions | 5 /month | Unlimited |
| Credit Monitoring | Unlimited | Unlimited |
| Money Manager | Unlimited | Unlimited |
| 3B Report & Scores | A La Carte | 1 /month update |
| $1 Million Fraud Insurance | Included* Activation Required | Included* Activation Required |
| PrivacyMaster® | Included | Included |
SmartCredit Plan Pricing and Benefit Breakdown
SmartCredit vs. the Competition
SmartCredit is the only credit management system that gives users a customized spending and payment plan to help them add more points to their credit score. Other products provide read-only information; they have to jump from app to app to understand. SmartCredit gives users a comprehensive view of their credit, money, and privacy in one interactive place.
Customer Service
SmartCredit boasts a world-class customer service team who is available seven days a week. They are committed to providing the best customer service possible to their clients, and you can contact their team via the smartcredit.com contact page, or through the information below:
(877) 372-3895
Monday through Friday, 8:00 a.m. to 8:00 p.m. EST
Saturday and Sunday, 9:00 a.m. to 6:00 p.m. EST
Conclusion
SmartCredit is on a mission to put the control back into the consumer's hands. This starts with a conversation, healthy financial habits, and intentional education. To learn more about SmartCredit and how they can help you achieve your financial goals, visit their website at smartcredit.com.
FAQs
How Accurate is SmartCredit?
The data found in the 1B and 3B credit reports are reported by your creditors and other sources. If you believe any information to be inaccurate, SmartCredit provides tools for you to communicate directly with the source.
What Credit Score Does SmartCredit Use?
SmartCredit uses the Vantage 3.0 credit score.
How Does SmartCredit Work?
SmartCredit has an exclusive set of tools that helps you achieve your best possible score quickly and easily.
Does SmartCredit Affect Credit Score?
Checking your credit report with your SmartCredit membership does not impact your credit score.
How Much is SmartCredit Monthly?
Please refer to the membership options page to review available pricing plans. At the current time of writing, a SmartCredit monthly membership costs between $19.95 and $27.95.
How Often Are The Credit Report(s) With My SmartCredit Membership Updated?
The number of updates for the 1B and 3B credit reports available within the SmartCredit membership varies depending on the selected plan.
Who Owns SmartCredit?
The SmartCredit® system is owned by David B. Coulter, CEO of ConsumerDirect®, who launched the smartcredit.com site in 2003.
---
Need expert financial advice?
Let TurboFinance connect you with the best consulting services and resources to help you take control of your finances and find a path to build wealth.
Get A Free Consultation Today!