Qoins Review: Pay Down Debt Automatically with the Qoins App
Posted on April 28, 2021 in Debt
Searching For an Easy Way to Save Money and Pay Down Debt Fast?
Look no further than Qoins, an app that will take your spare change and use it to automatically pay off your debt. Read our full guide and review of the Qoins App, including how you can join other Qoins customers who are paying off debt 10x faster than traditional methods. Save money and watch your debt disappear faster than ever before with one of the best debt reduction apps! Read our full Qoins Review find out more about the app, pros and cons, and how the app can help you become debt-free.
What is Qoins?
Qoins is a debt payment app that merges the concept of spare change investment with paying debt. With Qoins, any spare change from your purchases will be saved to help users pay their debt. Apps such as Acorns round pennies after transactions for investment. Following the same idea, a review of Qoins shows how the app uses spare change as a way for users to pay off debt.
What Kind of Debt Can I Pay Down With Qoins?
Qoins can pay down most types of debt. The app actually has a database that includes loan provider remittance addresses, making it easy for users to choose the debt they want paid. Types of debt that Qoins can pay include:
Small personal loans
Credit card debt
Car loans
Student loans
Users simply need to choose the debt that they want paid and enter the loan information into the app.
Some banks don't have their remittance addresses listed in the Qoins database, however, they can still be paid through the app. Simply add the account number and mailing address for the loan on a paper statement or online and provide that information to Qoins to have the debt paid.
Qoins Review: How Does Qoins Work?
Using the Qoins app is simple and effective, providing users with easy, debt-payment solutions. Very similar to Acorns and other spare change apps, Qoins watches the users' transactions, rounding up pennies to the dollar on each one. Everything that is rounded up is saved until a certain threshold amount is reached. At that point, all the money that was saved is dispersed to the account of the chosen loan.
While paying down debt with spare change may seem menial, it not only chips away at the debt of the user, it also reduces the amount of interest to be paid. Essentially, the Qoins app uses the concept of the debt snowball, reducing the amount owed a bit at a time, which decreases the length of the debt, and therefore, the interest.
Qoins does charge a fee to cover the costs of operations, mailing loan checks, and holding funds in an account.
Set Your Savings Method
After downloading and registering on the Qoins app, users need to link their bank account, choose how they want to save, and set a payment destination. To link a bank account, Qoins uses bank-grade token authentication to help customers log in. For smaller institutions, the account number and routing number may be provided. Once the account is officially linked, saving and debt payment can begin.
Choose from multiple ways to save money throughout the month:
Rounding up each transaction: users can opt to use their daily transactions and have them be rounded up to the nearest dollar. The amount that gets round up is added to your Qoins balance. For example, if you buy a sandwich for $7.50, the app will round it up to $8, and add $0.50 to your Qoins balance.
Payroll deductions: Qoins users have the option to choose a specific amount or a percentage for Qoins to set aside every time they get a paycheck. As an example, a user could choose to have $20 set aside each paycheck, or opt for a 10% deduction.
Smart-savings: This option allows Qoins to deduct money from your funding source each day. There are three tiers to choose from for smart-savings, allowing you to decide how aggressively you'd like to pay down your debt. The first option will allow Qoins to save between $0.50 and $1 per day, followed by $1.50 and $3 per day, and finally the most aggressive option is between $3 and $5 per day. Ultimately, the Qoins algorithm will determine the exact amount to save each day within your chosen range.
Weekly Deposits: For Qoins users who are more budget savvy, this option allows for a specific dollar amount to be set aside every week on a specific day. As an example, a user could choose to have $100 set aside every week on a Friday.
Run Qoins on Autopilot
Once users set up their prole, savings method, and link their accounts, they simply sit back and let Qoins do all the work. In fact, unless they want to make any changes, users don't need to think twice.
Setting up preferences and information automates the savings and debt payment process. Everything is done seamlessly through the Qoins app, including saving money using preferred savings methods, setting aside and storing money, as well as making debt payments.
Reach Your Goals
When using Qoins, users determine their specific debt payment goals. With a simple, streamlined process, you will be able to sit back, relax, and watch your goals come to life. Whether paying off multiple debts, a single large debt, or saving money in the simplest way, our Qoins review shows how it's a no-hassle option to reach financial goals.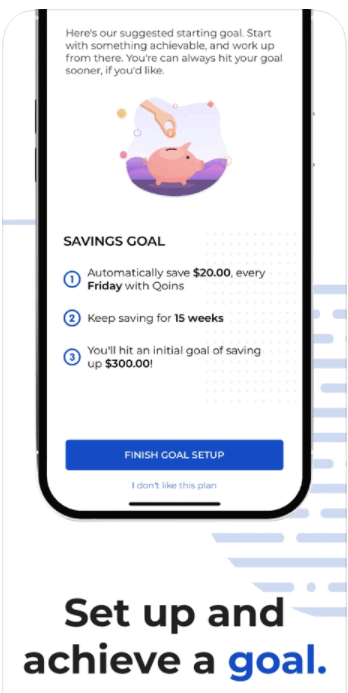 Qoins Benefits
Qoins makes it easy for users to pay off debt and save money without setting aside large amounts of money each month. For anyone in need of a simple way to pay off debt, the app offers a number of key benefits that you can read about below:
Bank-Level Encryption
Security and privacy are top priorities for Qoins and their users. To ensure secure transactions, Qoins uses industry standard, bank-level encryption. The company also doesn't store banking information, keeping it safe from attacks and theft.
Improved Credit Score
Debt has a huge impact on credit scores. The faster debt is paid off, the better for your credit. Qoins allows users to save little bits of money at a time in order to pay down debt. As the debt is reduced quickly, users' credit scores improve.
Payment Guarantee
With Qoins, users can breathe easy. The payment guarantee ensures that your money will either go directly where you intend, or it will be refunded right back to you. If an issue arises when Qoins attempts to make a payment on your behalf, your money will return to you. With Qoins, there is no risk of losing money.
Pay Off Debt 10X Faster
Instead of slowly paying minimum debt payments over a number of years, users have the opportunity to pay their debts off as rapidly as they choose. By opting into the various saving methods that Qoins offers and choosing to pay down specific debts, users have the ability to pay off debts up to ten times faster.
Track Your Payment History
There's no need to worry about where money is going with the Qoins app. In the Accounts Activity tab, users are able to track every single rounding transaction by day. In the Payment tab, users can see every debt payment that has been made in their name. Payment date, recipient, and amount are all available for viewing, enabling users to verify their payments and observe the right debt reduction.
Qoins Pricing: A Review
The company provides transaction rounding, saving, and debt payments for a small fee.
$4.99/Month- With this option, users have unlimited automatic savings and unlimited automatic debt payments. This plan also provides users with essential financial education.
$2.99/Per Goal Users can save money rounded from their transactions and have the amount paid towards one debt at a time.
Is Qoins App Safe?
Qoins app utilizes industry-standard 256-bit encryption and does not save banking information. Accounts for storing all rounded-up funds are FDIC-insured, making them safe and secure. When it comes to transaction rounding apps, a Qoins review shows that it's as safe as it gets.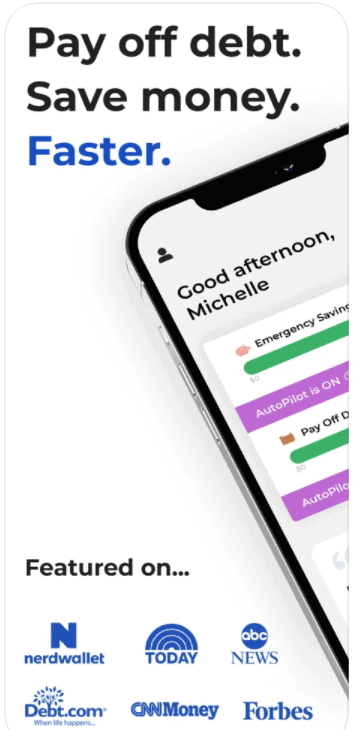 Is Qoins the Best Debt Reduction App?
There are other debt management apps and budget improvement apps, however, anyone looking for a simple, secure, streamlined app that rounds up friends from transactions and automatically makes payment on debt, will want to use Qoins.
When to Choose Qoins App to Pay Down Debt: A Final Qoins Review
Our Qoins review shows that it's the best debt reduction app for consumers that want to pay more towards their debt or save money automatically. It is a great way to reach financial goals without the difficulty of building new habits.
Consumers who have trouble establishing a regular savings and payment routine to pay off their debt will benefit greatly from Qoins. Those who have had difficulty setting money aside for savings or debt payment will appreciate the seamless, automated debt reduction approach of Qoins app.
It's also a great choice for those who want to pay off their debt, improve their credit, and start down the road to financial literacy and independence. Qoins offers users a starting point towards their financial future.
Need expert financial advice?
Let TurboFinance connect you with the best consulting services and resources to help you take control of your finances and find a path to build wealth.
Get A Free Consultation Today!