Debt Settlement VS. Bankruptcy
Posted on July 29, 2021 in Debt
If you're struggling with debt, you're likely looking for the best solution for your unique situation. You may be determining whether debt settlement vs bankruptcy is a better option. While they are both effective solutions to getting out of debt, they are very different, with their own positives and negatives.
---
---
With debt settlement:
A creditor and borrower come to an agreement in order to reduce the amount of debt.
Credit is less damaged than with bankruptcy.
Debt that is forgiven is considered taxable income.
With bankruptcy:
The borrower asks the court to relieve them of their financial obligations because they are unable to pay.
Credit report and score experiences long-term damage.
Discharged debt is not taxed.
Here's what you need to know about debt settlement vs bankruptcy in order to make the best choice for your specific financial needs:
Comparing Debt Settlement vs Bankruptcy
Bankruptcy: What is it?
Bankruptcy is a legal process that erases the majority of one's debt, removes many of their assets, and creates a structure for any required repayments. People file for bankruptcy because they claim they are not able to repay their debts. To find relief, they ask the bankruptcy court to discharge the amount that they owe. While bankruptcy does provide the quickest way to get out of debt, it has a negative impact on credit that stands for years.
What Happens When You File Bankruptcy vs Debt Settlement?
When you file bankruptcy, you ask the court to dismiss your debts due to your inability to pay them. The court will either allow you to file your claim or it will perform a "means test" which looks at the past five years' income and expenses. Those unable to file to have their debts completely dismissed may be able to file to have a 3-5 year debt pay off plan.
Types of Bankruptcy
There are two types of bankruptcy claims that can be filed: Chapter 7 and Chapter 13. Many people will initially attempt to file for Chapter 7 bankruptcy, but end up not qualifying, and file for Chapter 13.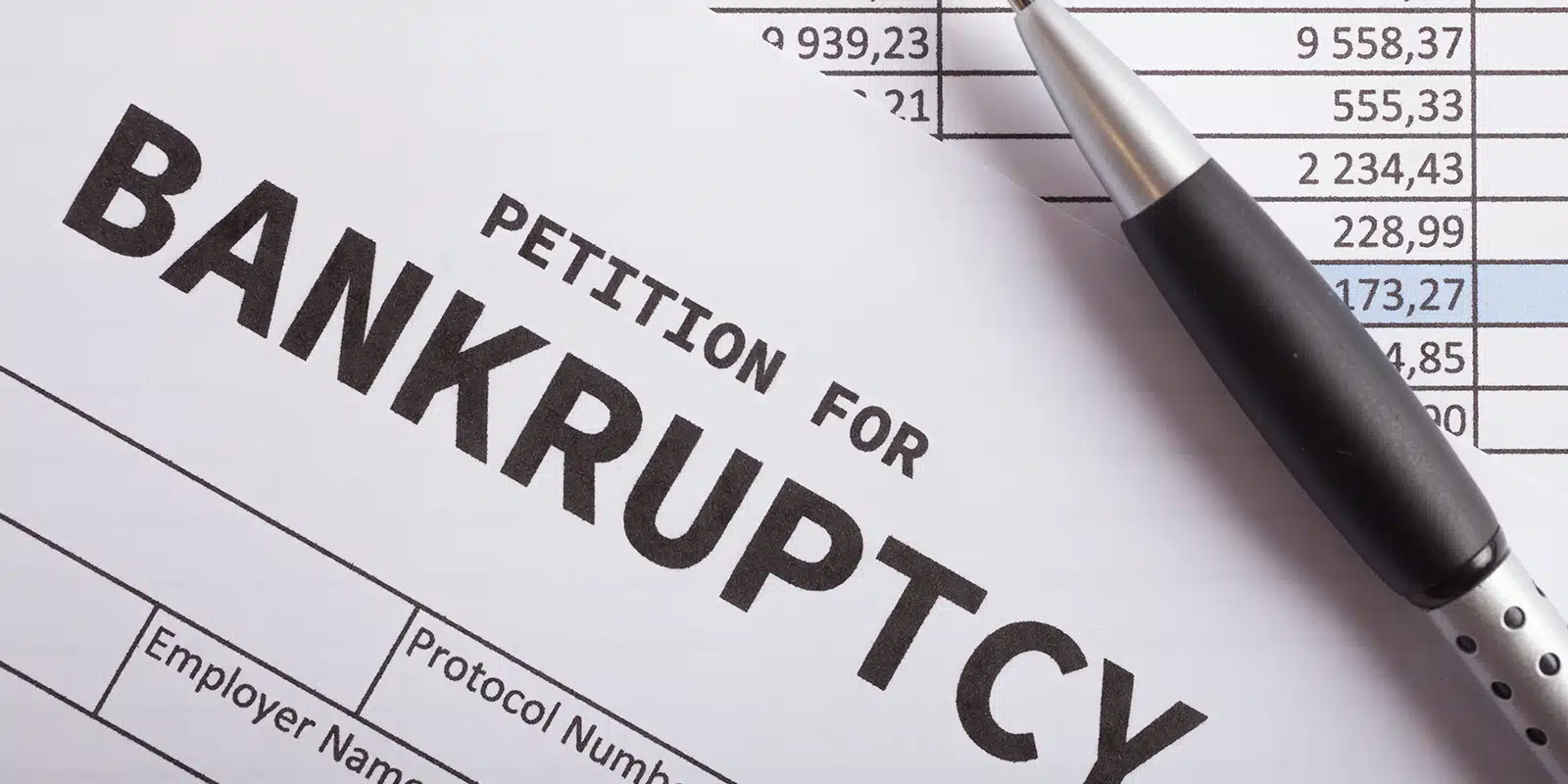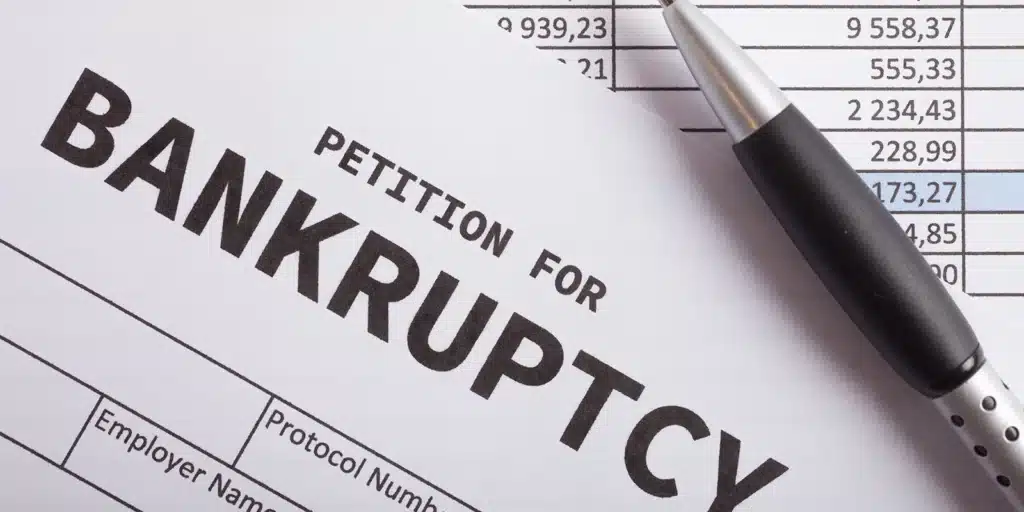 Chapter 7 Bankruptcy
Chapter 7 bankruptcy is what comes to the mind of most people when they think about bankruptcy. It's the type of bankruptcy that completely wipes out debts and frees borrowers from having to pay them back.
There are several pros and cons that accompany Chapter 7 bankruptcy. This type of bankruptcy enables you to start fresh with your finances by wiping away your debts, keeps creditors away, and can be accomplished in as little as 6 months. However, it also creates long-term damage to your credit report and can lead to your home and other property being seized in certain states.
While many people would prefer Chapter 7 bankruptcy as it fully removes their debt, it can be difficult to qualify. Filing a claim for Chapter 7 bankruptcy depends on your level of income, as well as your ability to liquidate your assets.
Those who have below the median income in their state can file for Chapter 7 bankruptcy, making it among the cheapest ways to file bankruptcy. Those who are above the median income have the past 5 years of their income and expenses examined in a "means test" to see if they can qualify.
When someone is unable to qualify for Chapter 7 bankruptcy, they can move onto Chapter 13.
Chapter 13 Bankruptcy
Chapter 13 bankruptcy has more lenient guidelines and requirements than Chapter 7. Instead of wiping out your debts, Chapter 13 enables you to set up a 3-5 year payment plan to pay off your debts. This type of bankruptcy keeps the creditors off your back while you make your payments, but also allows you to keep your assets.
Just like with Chapter 7, there are both positives and negatives associated with filing for Chapter 13 bankruptcy. This type of bankruptcy prevents your house from being seized or foreclosed on and discharges your debt once you've made your payments. On the other hand, the court sets up a payment plan that you must follow for 3-5 years and brings your credit score down for an extended period of time.
How Long Does Bankruptcy Stay on Your Credit Report?
Chapter 7 bankruptcy can stay on your credit report for up to 10 years, while Chapter 13 can remain for up to 7. The long-term poor scores make it difficult to obtain loans, make large purchases, and even get credit cards. When you first file for bankruptcy, the drop to your credit score will be drastic, moving down to the 530-560 range. However, as soon as the debt is discharged, you can slowly start to improve your score again.
How to File Bankruptcy
In order to file bankruptcy, you will need to petition the bankruptcy court. A bankruptcy attorney can be a very helpful in this situation, and your petition will ask them to either discharge your debt or to create a doable payment plan for you. The court will either approve your petition to discharge your debt, have you take a "means test," or will set up a legal payment plan.
Debt Settlement VS Bankruptcy – Pros and Cons
There are a number of pros and cons of both bankruptcy and debt settlement. Both options can help you relieve or manage your debt, however they also come with multiple negatives that might give you pause. Deciding which avenue to pursue should depend on your unique circumstances and which pros/cons will affect you the most.
Bankruptcy Pros
The pros of bankruptcy include:
The ability to clear your debt.
Elimination of creditor communications.
Not needing to pay taxes on discarded debt.
Bankruptcy Cons
Bankruptcy cons include:
High attorney fees.
Remaining debt that was unable to be discharged.
Negative credit report/score for up to 10 years.
Bankruptcy on your public record.
Debt Settlement: What is it?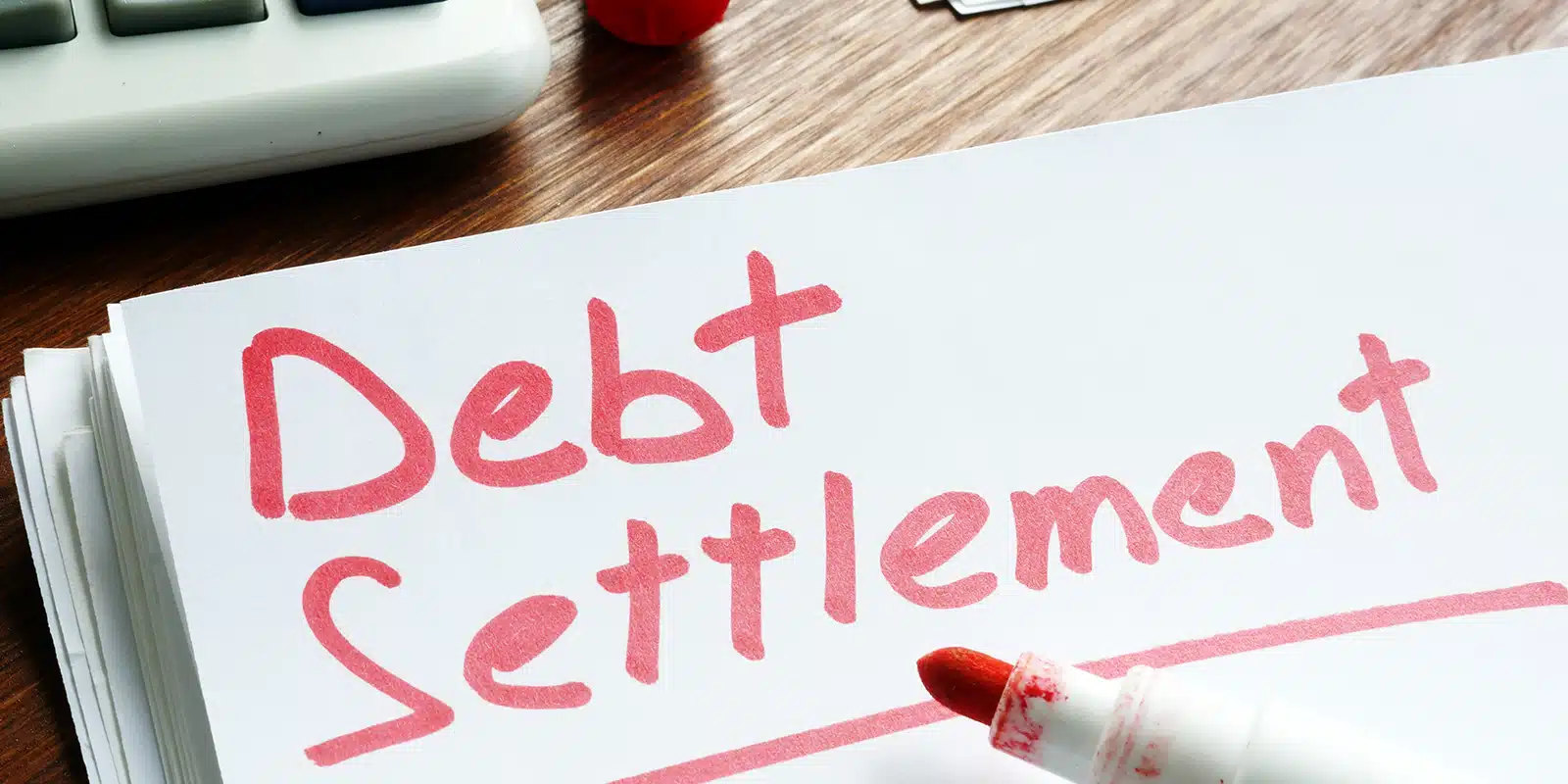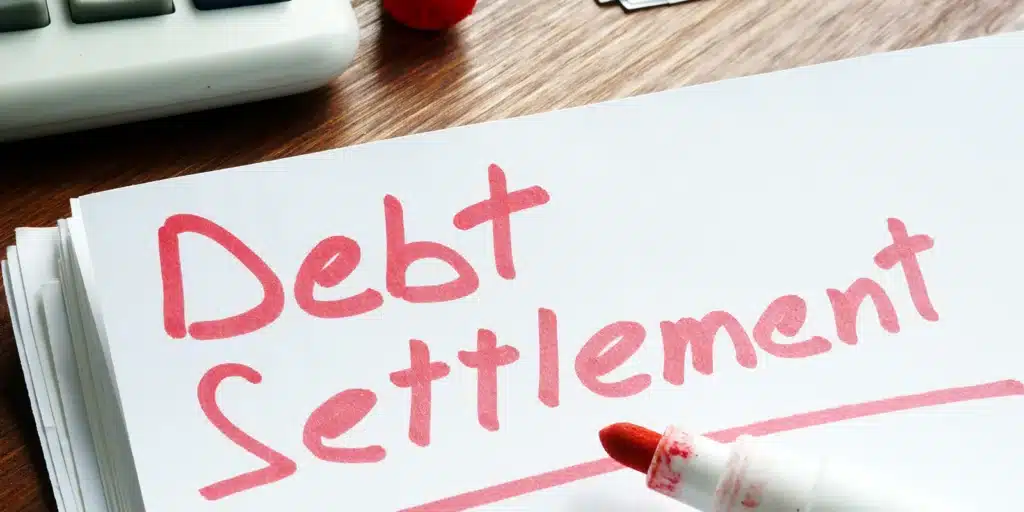 As an alternative to bankruptcy, debt settlement is when a deal is negotiated with your creditors that enables you to pay less than the amount you owe in order to close your debt. The settlement is an agreed upon amount, typically for unsecured debt such as personal loans, a student loan, or credit cards. During debt settlement, you will work with a third-party company in order to negotiate the new amount. Resolutions tend to be in the form of a debt management plan, revised payment plan, or lowered debt amounts.
Credit Card Debt Settlement
When you seek credit card debt settlement, you will use a third-party company who will reach out to your creditors, seeking a reduction in debt or a payment plan. Negotiating with the creditor, the debt settlement company may attempt to lower the amount you owe by turning it into one small lump payment. This creates a much more effective way to pay off your credit card and avoid high interest rates.
While the debt settlement company is working on negotiating your debt, they may require that you put money into a fund to be used for your lump payment.
Is it Bad to Take a Settlement on Debt?
Settling your debt for lower than the amount you owe could be a great idea. However, no matter how strong you think your case for debt settlement is, there are no guarantees that it will work out the way you want. Take the time to learn about the pros and cons of debt settlement to determine whether it is the right move for you.
Debt Settlement vs Bankruptcy Risks and Benefits
Debt settlement can be worth it and may be the right choice for your financial needs. Make sure to compare the risk and benefits associated with a debt settlement program before you decide to take action.
Debt settlement can be risky because it takes time and won't solve your problems right away. While you are going through the debt settlement process you may have your debt in delinquent status, which you could be sued for.
The benefits of debt settlement include the ability to avoid the legal process of bankruptcy and to have your debt reduced and settled. Debt settlement also does less damage to your credit than bankruptcy does.
Debt Settlement Options
There are many debt relief companies out there that provide debt settlement for people with financial needs. Here are some of the reputable companies that you may want to consider for debt settlement:
TurboDebt is a debt settlement company that helps their clients get a hold of their financial life. With custom strategies, they help their clients manage their finances and resolve their debt. TurboDebt has over 2,000 five-star ratings on Google, and more than 4,000 reviews on Trustpilot, and will help you manage and control your debt. Start with the simplified TurboDebt process by answering questions, having a free consultation, and choosing the best debt relief program in your state to suit your needs. Get your free quote from TurboDebt today.
Impact of Debt Settlement VS Bankruptcy on Credit
While bankruptcy can last on your credit for up to ten years, debt settlement has less of a negative impact on it. Keep your financial goals in mind when you decide which route you're going to take for debt relief. Also, remember that being debt free can be worth damaging your credit score.
Credit Score After Bankruptcy
Bankruptcy reduces the credit score to the low to mid 500s. The bankruptcy will remain on your report and affect your score from 7-10 years.
Debt Settlement Credit Score Impact
Debt settlement reduces the credit score less than bankruptcy, typically only the score 75-100 points. Your credit report will maintain the record of your debt settlement for 7 years, making it difficult to get approved for anything during that time. When you are working with a third-party for debt settlement, you will most likely be required to stop making payments to your creditors. This could worsen your credit because you will be in delinquent status.
Debt Settlement VS Bankruptcy: Which is Better?
There is no set answer to the question because no financial situation compares to another and everyone will handle their debt differently. While you cannot get an acceptable answer about which option is better, there are a few things to consider.
Debt settlement is a customized option, so you can feel confident in your decision.
The debt settlement team will learn about your specific needs to help set up a strategy that will best suit your needs.
Bankruptcy is a long-term solution that can help you with your financial situation. Debt settlement is customized and can adjust based on your specific needs. However, bankruptcy is best for people who have a large amount of debt and see no relief for their circumstances in the near future.
If you have smaller or less time-sensitive needs, debt settlement is a great way to go.
Simply keep in mind your circumstances and needs, and you'll discover the best resource for your situation. For example, you may also wish to compare debt consolidation vs bankruptcy.
When to Consider Debt Settlement VS Bankruptcy
If you are in debt and your debt keeps growing, it might be a great idea to file for debt settlement or bankruptcy. Make sure you have exhausted all of your other options before diving in. Debt settlement and bankruptcy are helpful as you seek to increase your financial situation.
Need expert financial advice?
Let TurboFinance connect you with the best consulting services and resources to help you take control of your finances and find a path to build wealth.
Get A Free Consultation Today!