ClickFreeScore Review 2023: Legit Credit Monitoring
Posted on September 15, 2021 in Money
Looking for the best credit monitoring service? ClickFreeScore.com is here to provide you with the tools you need to stay on top of your credit score. Starting with credit scores and moving on to credit monitoring and so much more. See how this agency can help you with your credit journey in our full ClickFreeScore review below.
Your credit score matters. It's necessary for getting loans, making big purchases such as houses or cars, and more. Ensuring that you have an accurate and positive credit score means knowing what your score is through consistent monitoring. Get credit monitoring you can rely on with ClickFreeScore.
What is ClickFreeScore.com?
ClickFreeScore is a credit monitoring agency that monitors the credit files of consumers and lets them know when there are changes to their report. They monitor all three major credit bureaus, TransUnion, Experian, and Equifax. Along with monitoring and notifications, ClickFreeScore offers consultations, tips, and credit information. ClickFreeScore.com provides users with unlimited credit score access and access to the Credit Learning Center.
ClickFreeScore Benefits
ClickFreeScore has multiple benefits for people who care about keeping track of and understanding their credit. After enrolling, participants receive unlimited access to their credit score and report, which makes them aware of the state of their credit and enables them to work on it when they need improvement.
Other ClickFreeScore benefits include:
24/7 credit monitoring
Credit alerts/notifications
Credit report consultation
Unlimited access to the Credit Learning Center
Access to all three credit bureaus reports/scores
Enhanced identity theft protection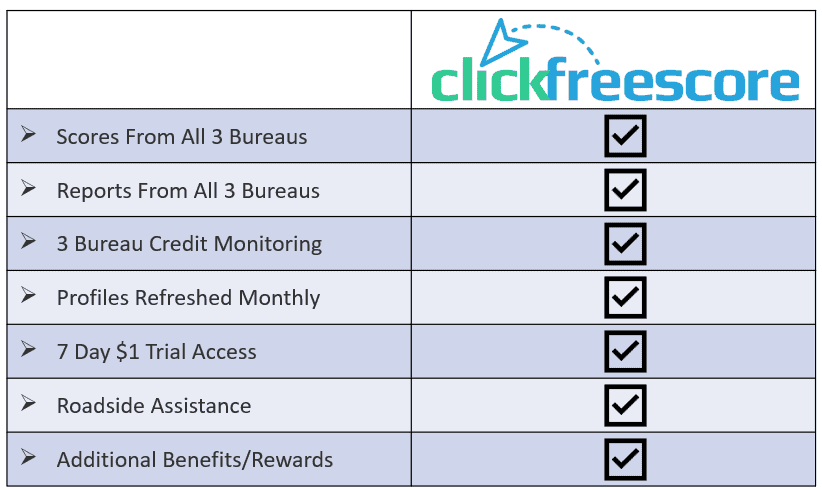 Scores From All 3 Bureaus
There is daily monitoring of users' credit scores from ClickFreeScore.com. Some available plans give people unlimited access to their credit scores. This allows them to constantly be aware of how their credit is doing without reducing the score by adding a hard inquiry.
Reports From All 3 Bureaus
Along with credit score, the credit report is another important tool to keep track of. The report gives a comprehensive and complete look at the user's credit, providing information that helps them understand their score. The report shows debts, payments, late payments, credit card utilization, and collections. ClickFreeScore gives users unlimited access to their credit report, providing awareness of what is counting against them and what is counting for them.
3 Bureau Credit Monitoring
The three major credit bureaus are monitored by ClickFreeScore, and their reports/scores are available for users. The three bureaus are Experian, TransUnion, and Equifax. Without a good credit monitoring agency, people get a hard inquiry on their credit report when they try to find out their credit score. ClickFreeScore provides daily monitoring of all three credit bureaus without the reporting of a hard inquiry. Users can view their scores and report as often as they like without consequence.
Profiles Refreshed Monthly
Creditors tend to send information to the credit bureaus on a monthly basis. As the information rolls in, reports and scores are updated. With the ultimate tier, users can see their credit profile refreshed each month to give them an accurate and up-to-date look at their credit. Users who opt for the basic package will see their profile updated quarterly.
7-Day $1 Trial Access
ClickFreeScore allows users to try out the credit monitoring service for 7 days for just $1. Get access to your score, your report, credit consultation, the Credit Learning Center, and all the other features, for just $1. After your 7 day trial, your card will be billed $39.90 until you cancel.
Roadside Assistance
There are multiple tools and features for users of ClickFreeScore.com, including 24/7 roadside assistance. ClickFreeScore makes sure you're prepared, even on the road. Get the help you need, no matter where you are, anytime of day or night.
Additional Benefits/Rewards
With a ClickFreeScore membership, you will receive numerous benefits, along with those mentioned above. They include:
Rapid credit alerts
Up to $1 million of stolen funds reimbursement
Dark web and internet monitoring
ID restoration
Social security number alerts
Change of address alerts
Lost wallet assistance
Credit fraud assistance
Access to free products/memberships
How to Get Started Using a ClickFreeScore Account
Sign up online by providing your personal information and choosing the 7-day $1 trial. Once you've enrolled, you will be automatically redirected to the member portal. In the member portal, you will be able to easily navigate between the various benefits to check out everything that ClickFreeScore has to offer. Also, keep an eye out for a membership email that contains your login credentials, along with other important information about your membership.
Get Your Credit Report
Your credit report will be available in the ClickFreeScore member portal, which is open and available to members 24-hours a day, 7-days a week, 365-days a year. With constant access, you will always be aware of how your credit is doing and what you can do to improve it.
Credit reports contain information from all three major credit bureaus: Equifax, Experian, and TransUnion. They are updated monthly with the unlimited tier and quarterly with the basic.
Credit Monitoring and Alerts
ClickFreeScore doesn't just keep track of your credit score, it also has a notification system to let you know when your score has changed. Constant awareness of your credit score is the number one tool for improving and maintaining your score.
You will also be alerted if you've been a victim of credit theft and the professional consultants at ClickFreeScore are available to help you through the situation. Consistency and awareness are key when it comes to your credit score and report. As a member of ClickFreeScore, you'll have the tools you need to ensure the accuracy and security of your credit and identity.
ClickFreeScore Login and Sign In
After enrolling in ClickFreeScore, you will have access to the membership area, learning tools, and professional consultations. There is a member login area on the ClickFreeScore website, so you can get signed in and find your information right away.
ClickFreeScore Customer Service Phone Number
ClickFreeScore provides unmatched, accessible customer support. Contact the ClickFreeScore customer service number at (855) 501-8211 for real-time, quality customer support.
ClickFreeScore Reviews
Overall, ClickFreeScore has high consumer ratings and positive reviews. ClickFreeScore reviews and ratings are based on customer satisfaction in plans/pricing, report details/frequency, credit bureaus/scores, and monitoring/extra features. Considering all of those solo ratings, ClickFreeScore has an overall rating of 4.4 out of 5 stars.
One five-star ClickFreeScore review on their website mentioned the follow: "What I like most about your company is the fact that you get information about credit, and a lot of benefits that go along with it that you can take advantage of. Customer service was top notch, they answered my questions and he gave additional information so that was also a bonus. Thanks!" – Frances S.
4 out of 5 stars. The basic credit plan starts at $9.95 a month and does not include an Experian credit report or monitoring services. Premium plan is $29.95 a month and adds Experian in. For unlimited use, the Ultimate plan is $39.95 a month. There are no free credit monitoring options available at this time.
4.5 out of 5 stars. ClickFreeScore works with all three credit bureaus and updates as frequently as each month, depending on the plan.
4.5 out of 5 stars. From consistent monitoring of the three credit bureaus, customers are notified when there are changes or security breaches.
Monitoring/Extra Features
4.5 out of 5 stars. Accredited by the Better Business Bureau. There is currently no ClickFreeScore app, alerts are sent to the user via email.
Why Choose ClickFreeScore for Credit Monitoring
ClickFreeScore reviews are extremely positive, and the service provides users with 24/7 access to their credit report, score, and other important tools. You will be set up for credit success through awareness, education, and consultation. Users also receive a number of other useful tools, such as roadside assistance, identity theft protection, and more.
FAQ's By ClickFreeScore Reviewers
What is a Credit Score?
Your credit score is a number that represents the totality of your credit report. Your score is essentially an identification of your risk level, providing information for lenders and bankers about your loan worthiness. Those who have a higher credit score have a better chance of being approved for loans.
What is Credit Monitoring?
Credit monitoring is a way to regularly watch your credit report and credit score in order to be aware. With monitoring, you will see any changes, you will have the tools and information to help build your score, and you can ensure that your identity is secure. Using a reliable credit monitoring agency is essential to ensure that your report is accurate and up to date. It's also best to choose a credit monitoring agency that works with the three major credit bureaus.
How is My Credit Score Calculated?
Your credit score is calculated by evaluating data points from your report and comparing them to credit patterns. There is a mathematical equation used to determine your credit risk. The factors considered when calculating your score include:
Number of delinquencies
Number of inquiries
Number of new accounts
Balance of accounts
Number of mortgage accounts
Is ClickFreeScore Safe and Secure?
Yes. ClickFreeScore is safe. Your data will always be protected when you use ClickFreeScore.
Is ClickFreeScore Legit?
Yes, ClickFreeScore is a legitimate credit monitoring agency that is accredited by the Better Business Bureau.
I Never Received a Welcome Email. What Should I Do?
Enrollees should receive a welcome email within 24 hours after enrollment is completed. If you do not see your email, check your spam folder. If you still have not found your email, contact customer service.
How to Cancel ClickFreeScore
To cancel your ClickFreeScore membership, contact customer service at (855) 504-5101. Make sure you're ready with your membership information. Residents of California can pursue a ClickFreeScore cancellation online in the membership portal.
How Can I Reactivate My ClickFreeScore Membership?
Contact customer service at (855) 504-5101 for help in reactivating your membership.
Need expert financial advice?
Let TurboFinance connect you with the best consulting services and resources to help you take control of your finances and find a path to build wealth.
Get A Free Consultation Today!