Unlock Home Equity Review 2023
Posted on December 16, 2021 in Debt
It is sometimes hectic for homeowners to make monthly payments on their homes. If you are in such a situation or need relief, worry not because Unlock Technologies is a new way for you to tap into the equity in your home. In this Unlock Home Equity review we will go through how it works, pros and cons, and how the company compares to other organizations.
---
---
Read on to understand how Unlock can help you tap your home equity, and how you can be a part of their fast-growing community.
How does Unlock Home Equity Work?
Unlock is a company that allows your access home equity through a Home Equity Agreement (HEA). Unlock was founded in 2020 in San Francisco, California, and according to their website they provide homeowners access to home equity without taking on additional debt. Essentially, the company lets you sell them a portion of your equity in exchange for a percentage of your home's value up to 10 years in the future.
You need to understand that this is NOT a home equity loan. Because a HEA is not a loan, you will not pay any monthly payment or interest, so there's no pressure to pay another monthly payment.
You can use the funds for anything; like making home improvements, or paying off expensive unsecured credit card or personal loan debt
Even though this is not a loan Unlock will place a second lien on your home (similar to a HELOC) as a way to ensure their investment.
How much will the investment be?
Unlock determines how much to invest depending on your home and the market value. Essentially, Unlock investments are capped up to 43.5% or $500,000 of the market value of your home. Additionally, there is a limitation of the maximum loan to value, which is 85%. These guidelines help the company to decide how much money they can offer you.
For instance, if your home's value is $500,000 and you have an existing mortgage debt of $300,000. You can qualify for a HEA of $50,000, which is 10% of the value of your home. In this example you would be responsible for paying back 16% of the value of your home up to 10 years in the future
Unlock reviews and considers the following factors before investing in your home:
There are 4 levels of criteria in how Unlock evaluates you and your home. Typically, it is easier to qualify for a HEA than a HELOC or a Cash Out Re-Fi
The current value of your home- A homeowner with a higher-valued home will get more cash.
House debt- Unlock also looks at the previous home debts. The less the amount of debt you have, the higher the money you'll receive.
Creditworthiness- A homeowner with a great credit score and credit history will easily get the finances.
Property utility- Owner-occupants are more likely to receive the cash than those who have offered their homes for rental purposes.
For more details on how you can get cash from Unlock, visit their website, and you will get all the answers you need. Additionally, there's an online quote tool to help you calculate how much money you can get from the investment company, depending on your home value and debt on the property. It will take about 60 seconds to fill out the online quote tool.
Unlock Home Equity Review: Terms of the Agreement
You need to understand the terms of the agreement well to avoid any conflict or misunderstanding. As mentioned earlier, Unlock is a company that offers a Home Equity Agreement (HEA) which allows you to tap your home equity in exchange for cash today.
You have a window period of ten years to buy out its position, with no payments. This means that the company does not hold the home equity forever. Much like a loan if you fail to meet the obligations of the agreement and fail to buy out or sell your home you could lose your home in the future.
We will break down this further to help you understand better your repayment option. Below are the options:
Buy out Unlock
You can start the process of buying out Unlock after six months. You can either pay back the lump sum amount or pay in installments depending on the agreed amount. Unlike other companies, a review of Unlock shows that the company is open to receiving partial payments from homeowners.
An appraisal will be carried out to determine the home's value, and you'll be told the amount needed to buy out the company. After paying the amount, the lien on your home will be lifted. It is an easy process, and there are no penalty charges before the end of the ten years.
Sell your Home
You can sell your home at any time and Unlock will receive its share of value through the escrow process. This is typically how a homeowner exits a Home Equity Agreement.
A Review of the Costs associated with Unlock Home Equity
Unlock has a typical arrangement to give you an amount worth 10% of your home's current value in exchange for 16% of the future value of your home.
The company also caps its return but applying an 18% annualized rate of return over a 10 year window. This comes in handy if you only plan on using the cash for a short period of time.
Although there are no monthly payments, you may be required to cover some expenses or possible closing costs. For instance, you must pay a 3% origination Unlock fee. In addition, you'll be liable to cover any extra costs that come up during the appraisal, so be sure to review Unlock's fine print.
Types of Property associated with Unlock Home Equity
Most companies have a restriction when it comes to investing in particular properties. Unlock prioritize properties such as:
Investment properties
Primary home
Secondary homes and vacation properties
Pros and Cons of Unlock Home Equity
Taking time to fully understand the advantages and disadvantages of Unlock before working with them can help you make informed decisions. Here is what you need to know:
Pros
You are not required to settle monthly payments or interests.
You can still receive money even with less than perfect credit.
Filling in their online form will help you know the cost estimates in less than 1 minute.
No need to disclose your income.
You can use the funds for your personal projects.
Large investments are acceptable.
You are not required to have a hard credit check.
The amount you used to improve your home is not included in Unlock shares.
Cons
The services of the company are currently available in only 15 states.
You run the risk of losing your home if you cannot buy back the equity in less than 10 years.
The Unlock equity percentage (16%) is greater than the cash value you receive.
Eligibility Requirements for Unlock
The eligibility for the company is not as strict as financial institutions. This is because you will not pay any interest rate or monthly payments. Although your credit will determine how much money you can get from Unlock.
Below are some essential requirements for Unlock:
The minimum equity for your home should be at least 20%
Unlock is currently available in Arizona, California, Colorado, Florida, Michigan, Minnesota, Nevada, New Jersey, North Carolina, South Carolina, Oregon, Utah, Tennessee, Virginia, and Washington.
Must be a U.S citizen or a permanent resident of the above states.
You must have a minimum loan to value of 70%.
The minimum age is 18 years.
A minimum credit score of 500.
Customer Ratings and Unlock Reviews
Unlock customer reviews and ratings are essential not only to the company but to the customers as well. New clients rely on the feedback of the existing clients to make sound decisions. Better Business Bureau and Trustpilot are two known platforms that help customers compare the financial services offered by different companies.
As of September 23rd, 2021, Unlock was rated 4.7 out of 5 (50) reviews on BBB and is rated with an A- on Trustpilot. Unlock takes the reviews and feedback very seriously and is working towards achieving customer satisfaction.
Unlock Homes Equity Review FAQ's
How does Unlock work?
Unlock is an investment company in real estate. The company offers you money in exchange for a percentage of your home equity. The firm can offer you a lump sum of cash equal to 10% of the value of your home today in exchange for 16% of your home value in the future. You have a period of ten years to repay the money, or you can sell your home at the end of the period to pay the company back.
How does Unlock determine how much to invest?
Several factors inform Unlock on how much to invest. The first thing is the value of your home. If your home is of much value, the company will give you a large amount of money. The type of property will also help them decide how much to invest, and if you reside in the home, the better. Your house debt and your creditworthiness will also determine how much money you get.
Are there any costs?
You are initially supposed to pay 3% origination Unlock fees. Additionally, any costs associated with third parties like an appraisal will be on you. Outside of this, if you're wondering how much Unlock might cost, know that there are no monthly payments. In a typical agreement, you might exchange 10% of the current home's value (cash to you) for 16% of the future home's value (the Unlock Share). The annualized cost of your agreement cannot exceed 18%, and the annualized cost of the agreement decreases significantly the longer you hold it.
Who qualifies for Unlock?
A review of Unlock shows that you need to be a permanent resident of the 14 states or a U.S citizen above 18 years of age. You also have an LTV of 70%, minimum equity of 20%, and a minimum credit score of 500.
How do I apply?
You can easily apply online by creating an Unlock account. When applying, you'll provide documents such as your identification, lease agreements, mortgage statements, or homeowners insurance declaration. Your documents will be reviewed, and an appraisal sent to inspect your home. If everything is okay, Unlock will issue an Investment Closing Statement with the terms and conditions.
How does Unlock compare to other companies?
Although Unlock is a new company, its team of qualified workers ensures that the services are reliable. Unlock is rated excellent in benefits, eligibility requirements, investor amount, buyout options, and application process compared to other home equity sharing companies. When it comes to fees and customer reviews, Hometap is another top contender.
How much can I get from Unlock?
Generally, you can get a maximum of $500,000. Visit the company's website for more details about the amount you can receive. With your Unlock account, you will have more details, such as calculating the estimated maximum cash available for you.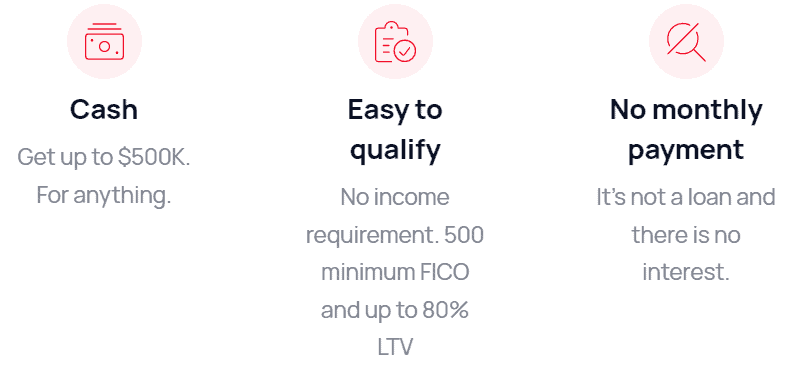 A Final Review of Unlock Home Equity
You don't have to stress about paying your existing mortgage debt every other time. You can live comfortably and renovate your home with the help of Unlock Home Equity. Unlock will give you money in exchange for a percentage of your home equity, and you have ten years to make the payment. The good thing is that this is not a loan, so you will not stress about monthly payments and interest. Unlock is here to give you the best services.
Need expert financial advice?
Let TurboFinance connect you with the best consulting services and resources to help you take control of your finances and find a path to build wealth.
Get A Free Consultation Today!