TurboDebt Reviews 2023: Are They Legit?
Posted on January 4, 2021 in Debt
If you are struggling to get out of debt, TurboDebt may be a legitimate solution for you. TurboDebt is the top-rated debt relief service on Trustpilot, with more than 6,800 verified reviews. There are also more than 2,200 positive, five-star reviews of TurboDebt from past customers via their Google Business listing. TurboDebt offers debt consulting services that help customers take back control of their finances and find a path to start building new wealth. Learn more about how this company may be able to help you become debt-free in as little as 24-48 months with our full TurboDebt review below.
---
---
What is TurboDebt?
Turbodebt is a top-rated debt relief company that offers consumers flexible options to help them regain control of their finances and work toward debt-free living.
TurboDebt is mainly a debt settlement company, who has received thousands of positive, five-star reviews from previous customers. Debt settlement is a service provided by a third party that attempts to reduce a customer's debt by negotiating settlements with their creditors and debtors.


Strategic planning: First, TurboDebt will examine your overall financial picture in order to fully understand the challenges you are facing when it comes to finding financial security. Then, they will strategize the best plan to help you become debt-free in the shortest amount of time.
Advising: The experts at TurboDebt will work with you to advise you on what changes you must make in order to break free of the debt cycle.
Consulting: The staff at TurboDebt has years of experience in getting people out of debt. But it doesn't end there; they also work with customers to get them started on building wealth.
How Does TurboDebt Work?
Answer a few questions about your debt relief goals
Choose the TurboDebt debt relief program that best suits your needs, and that will afford you the fastest way to climb out of debt
TurboDebt also offers free consultations on their website for customers interested in finding out a few more details before making the commitment.
Review of TurboDebt Relief Programs
Understand your TurboDebt debt relief options, including the benefits and risks of each solution that may be right for you.
TurboDebt Consolidation
Debt consolidation rolls multiple debts, typically high-interest debt like credit card bills, into one single payment. If you find yourself dealing with a manageable amount of debt but you are simply looking for a way to reorganize a number of bills that carry different interest rates, payments, and due dates, debt consolidation is a good option that will allow you to tackle your debt on your own without needing a loan or damaging your credit score. This can be a great way to fix credit yourself.
TurboDebt Settlement
Debt settlement is also referred to as debt reduction, debt negotiation, or debt resolution. Debt settlements are negotiated with a customer's unsecured creditors. Typically, creditors will agree to forgive a large part of the debt, allowing debtors to pay off their debts much faster. TurboDebt can help you determine if debt settlement is worth it for your personal financial situation, as they've helped thousands settle their debt.
TurboDebt Validation
Debt validation, or "debt verification", refers to a person in debt's right to challenge a debt and/or receive written verification of a debt from a debt collector. Debt collectors are legally required to send you a debt validation letter, outlasting what your debts are, how much you owe, and other pertinent information. A debt validation notice should include the following information:
The total amount of debt you owe the institution
The creditor's name
The assumption that the debt will be valid unless disputed by you within 30 days
Notification that, within 30 days, you can petition verification of the debt within 30 days
Notification that you can request the name and address of the original creditor within 30 days
Is TurboDebt a Good Company?
On the TurboDebt.com website, they discuss imagining a life without the daily stress of debt. This almost sounds too good to be true, but from what we can tell their focus on understanding clients immediate and future goals is the basis of what makes them a good company. From a free initial consultation to their partnerships with multiple debt programs that work across a majority of the United States, TurboDebt appears to offer some of the most effective debt relief solutions available to consumers today.
TurboDebt Google Reviews
On its website, TurboDebt has over 2,200 positive, five-star reviews from past customers via their Google Business listing. Many recent customers say things like, "the monthly prices are manageable, and they work with your budget." Or, "Took me through the whole process made me feel very comfortable an confident that I can achieve my goal." It's great to see that so many of their client's speak highly of the customer service offered, which is always something that makes us want to give our business to a company.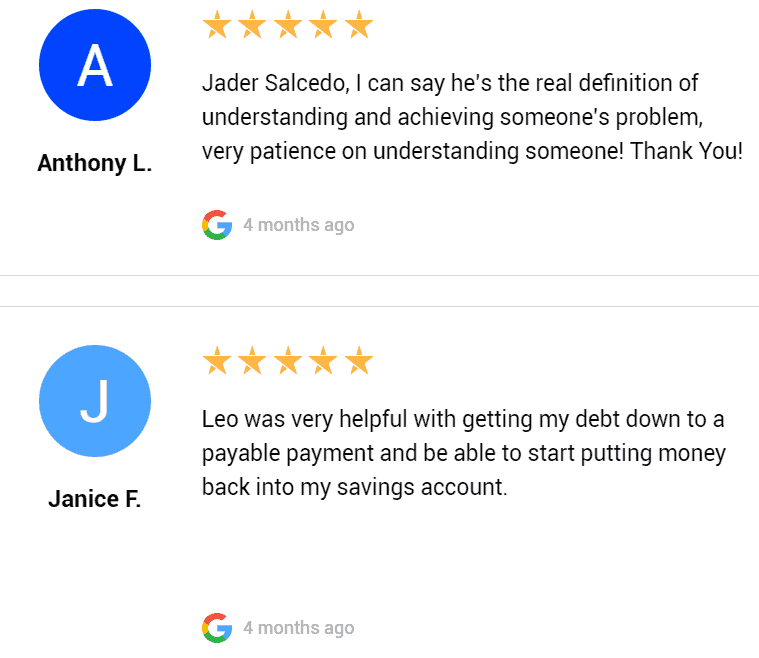 TurboDebt Trustpilot Reviews
We also noticed greater than 6,800 verified 5-star reviews on Trustpilot. These reviews seem to go into more detail about the customer experience, and like with the Google reviews, there are a lot positive reviews speaking highly of the representatives and their ability to empathize and make the client feel comfortable throughout the debt relief process. For example, we found this recent review:
"Mike was nothing short of amazing. I was a nervous wreck at the beginning of our call. He had nothing but my best interest in mind and by the end I was assured that this was my best option to financial freedom. Every quest I had, no matter how dumb, was answered extensively."

Trustpilot – Date of experience: December 05, 2022
Are TurboDebt Reviews Legitimate?
If you're wondering if TurboDebt's reviews are legitimate, be sure to take a look across all of their review profiles, including Google, Trustpilot, and Facebook. It's clear that the 6,800+ reviews of TurboDebt on Trustpilot have been verified, as you can filter specifically to these from the company's main profile (see image below).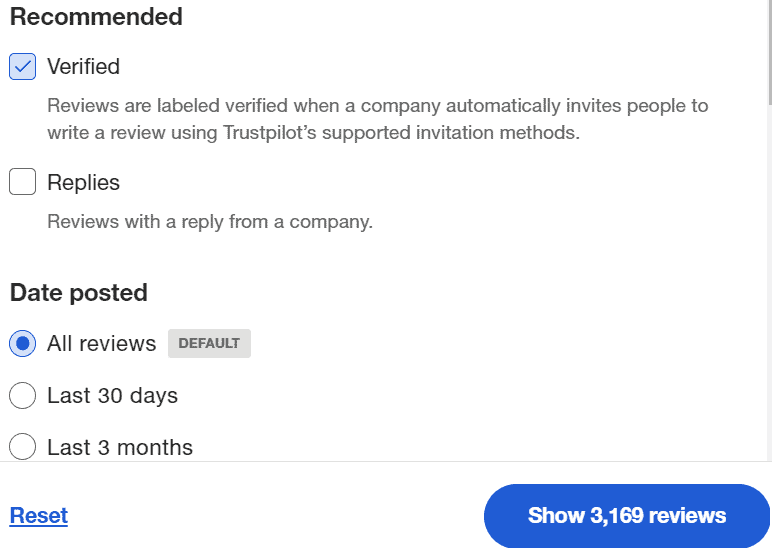 Additionally, the Consumer Financial Protection Bureau recommends that before you enroll in any debt settlement program, you should contact your state attorney general and local consumer protection agency to check whether there are any complaints on file about the company you plan to use. The Better Business Bureau also offers consumer reviews of TurboDebt and other similar businesses that could help you as you research a debt settlement service provider.
Our final verdict is that TurboDebt is a company that combines its insights and skills to transform debt processes and strategies into a manageable game plan to give customers security and stability. Find debt relief in your state today with help from TurboDebt.
Searching for for financial assistance? Let us connect you with some of the best debt relief companies.
Need expert financial advice?
Let TurboFinance connect you with the best consulting services and resources to help you take control of your finances and find a path to build wealth.
Get A Free Consultation Today!