Turbo Debt Recovery Review: A Debt Collection Agency in Columbus, OH
Posted on January 27, 2021 in Debt
Turbo Debt Recovery LLC is a Columbus, Ohio-based BBB-accredited collections agency. The company has received mixed reviews on the internet, with a 3.6 star rating on Google as of our most recent update to this article. If you want a more in-depth review of Turbo Debt Recovery, keep reading to learn more about the company's offering, how it works, and the pros and cons of working with the company.
---
---
It's no secret- the majority of Americans are in quite a bit of debt. This debt grows from month to month, creating what seems like an endless cycle. Many people are used to living in debt, and they've come to accept that one debt often leads to another.
The acceptance of debt accumulation can make it difficult to collect money that you're owed. People often aren't afraid of being in debt, they're not concerned with paying back what they owe right away, and sometimes they'll just ignore the debt altogether. When you depend on receiving money that you're owed, you need a sure-fire way to have that money collected.
Turbo Debt Recovery is a legit debt recovery company that works to collect the money businesses are owed. Is Turbo Debt Recovery the best debt collection company for your needs? Here's what you need to know.
What is Turbo Debt Recovery?
Turbo Debt Recovery is a debt collection agency in Columbus, Ohio that serves commercial, healthcare, and government organizations. It's mission is to ensure the debt recovery results that each client deserves within 90 days, becoming the preferred debt recovery agency for their chosen industries.
The company believes that every business deserves the money they are owed and that consumers should seek to settle their debts. To this end, Turbo Debt Recovery has a team of experienced debt collection agents who utilize effective communication skills, walking through the debt recovery process with their clients and those who owe the debts.
Efficiency, responsiveness, and top-notch results are the values that Turbo Debt Recovery seeks to embody. With a team of agents who are focused on persistence, commitment, integrity, and excellence, they are an agency that knows how to get collection results.
Collection Agency in Columbus, OH
Turbo Debt Recovery is one choice when looking for a collection agency in Columbus, Ohio. This professional debt collection service is known for its effective communication style and successful recovery results. Focusing on commercial, healthcare, and government industries gives the company a wide-reaching market in the collections business in Columbus, Ohio.
How Does Turbo Debt Recovery Work?
Turbo Debt Recovery utilizes effective, compassionate collections techniques to recover debts that organizations in the healthcare, government, and commercial industries are owed. The TDR approach centers on treating people with respect and understanding. Debt recovery is professional and considerate while ensuring a firmness that gets the job done.
The Turbo Debt Recovery process focuses on efficiency, responsiveness, and results. From a 15-minute onboarding session, to seamless placement with a dedicated representative and professional team, and ending with top-notch results within 60-90 days, the Turbo process is a proven method of effective debt collection.
Is Turbo Debt Recovery a Good Company?
Turbo Debt is a legitimate debt recovery professional, whose agency has great results with debt collection. Their focus is helping their clients get the money they're owed through compassionate, humane communication with the people in debt. TDR solutions are unique and effective; clients are given high-quality treatment, and debtors are handled firmly but with care.
The pros of Turbo Debt Recovery include:
Top-notch collection results within 60-90 days.
A 100% contingency fee basis.
Experienced, compassionate collectors.
Over 25 years of experience.
15-minute onboarding that provides clarity and focus.
Results in collecting millions of dollars.
Multiple effective solutions; collections, receivables management, demand letters, and contract enforcement.
Instant (within 24-hours) start of collections process.
Personal account representative.
Seamless process for making multiple claims.
On-demand client updates (within 15 minutes).
With proven results for distinguished clients in the government, healthcare, and commercial industries, they are a top choice for debt collection.
The cons of Turbo Debt Recovery:
Here are some potential cons you may want to consider before hiring TDR for your debt recovery needs:
There is no guarantee of debt recovery. Despite all attempts, some debts go unrecovered. You could end up paying Turbo Debt Recovery for debt collection without results. While TDR has a proven track record of success, it's important to understand that there is no guarantee.
It could have a negative impact on your business' image. Debt collection is a frustrating experience for most consumers. If you pursue debt collection, you will likely have some customers giving bad reviews and claiming harassment.
It creates reliance on outside agencies. Instead of hiring a debt recovery agency to collect your debts, you could focus on improving your business' internal collections process. This will bolster your business processes and eliminate reliance on the outer agency.
Small ROI. Before hiring Turbo Debt Recovery, make sure that your results will far exceed what you are spending. A small return on investment may not be worthwhile, while a large one makes all the difference.
Based on reviews, it appears they are only interested in collecting on big dollar amounts, and customer service has a track record of being rude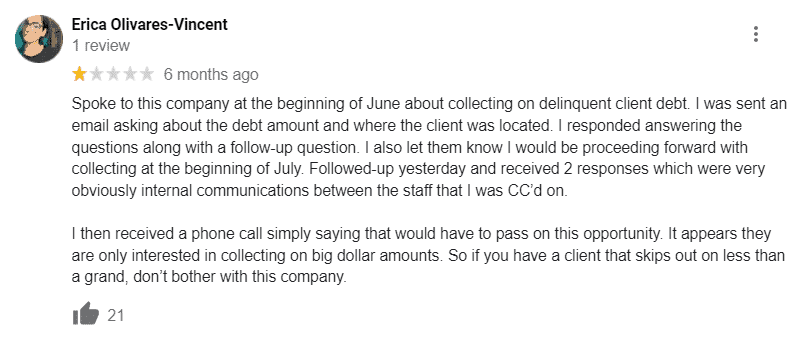 A Final Review of Turbo Debt Recovery
While there are some drawbacks to hiring an outside debt recovery agency to collect the debts that are owed to your business, an experienced agency can help you receive the results you deserve.
Turbo Debt Recovery is not a scam, and has a proven track record of success. With an effective debt recovery process that ensures compassion for debtors, TDR helps organizations in the healthcare, commercial, and government industries obtain the money they're owed.
If you are looking for a debt recovery agency that is known for top-notch results, and you want to make sure that your debtors are treated with compassion and respect during the process, Turbo Debt Recovery is the answer.
Need expert financial advice?
Let TurboFinance connect you with the best consulting services and resources to help you take control of your finances and find a path to build wealth.
Get A Free Consultation Today!