National Debt Relief Review 2023
Posted on January 9, 2021 in Debt
Looking for National Debt Relief reviews and an explanation of their debt management programs? Read our complete review and guide to their services below, including whether or not National Debt Relief is legitimate, pros and cons, and more.
---
---
One of the best and easiest ways to get out of massive debt is to attempt a process called debt settlement. Debt settlement is a practice that allows a borrower to pay a lump sum that is typically less than the total amount of debt owed which settles the debt. Read our full National Debt Relief review to find out if debt settlement is right for you.
What is the National Debt Relief Program?
This service is generally offered by third party companies that can help reduce the debt by negotiating the settlement with the creditor. While this will help to relieve the debt there can be some consequences for using a service such as these.
However, if getting out of debt is a priority, then the penalties will be necessary. One of the largest and most reputable debt settlement companies is National Debt Relief.
What is National Debt Relief?
National Debt Relief is an accredited debt settlement company founded in 2008 in the state of New York, and is one of the largest debt settlement companies operating today. National Debt Relief has a team of debt arbitrators that are certified through the International Association of Professional Debt Arbitrators.
In addition to this, a review of National Debt Relief unveils that it is a member of the American Fair Credit Council, whose members are sworn to follow a very strict code of conduct in the industry of debt settlements. The BBB (Better Business Bureau) has given National Debt Relief a rating of A+ and it is among the most reputable of those reviewed in the financial industry.
Qualifications Required for National Debt Relief
When signing up for the services of National Debt Relief there is no upfront fee and the initial consultations are free. If the consultation with one of the certified debt specialists ends with their suggestion that National Debt Relief is the right option going forward, that's when the topic of cost will come up.
The average client of National Debt Relief pays a fee ranging from 15% to 25% of the total debt enrolled; however, this fee is only paid when the debt has been settled. It will be added into the reworked monthly payments of the debt.
Now, there are some debt relief qualifications before enrollment is possible:
Firstly, National Debt Relief requires a debt of at least $7,500 and no more than $100,000.
National Debt Relief will only work with reducing debt stemming from credit cards, personal loans, lines of credit, medical bills, business debt, private student loans and other forms of unsecured debt where no collateral is connected.
National Debt Relief does NOT work with debt from lawsuits, IRS debt and back taxes, utility bills, federal student loans, auto loans, home loans or other forms of secured debt that have collateral offered with them.
As a result of various state regulations National Debt Relief is not available in the states of: Connecticut, Georgia, Kansas, Maine, New Hampshire, Oregon, South Carolina, Vermont and West Virginia.
A Review National Debt Relief Debt Settlement
If the qualifications listed above are met and a borrower hires National Debt Relief, then the next step is opening a separate savings account.
The process of debt settlement will require the borrower to forego payment to the lenders and creditors and instead deposit a monthly payment into this new savings account. This monthly amount will be determined by a National Debt Relief review, and will generally be lower than the total monthly payments of the borrower's unsecured debts.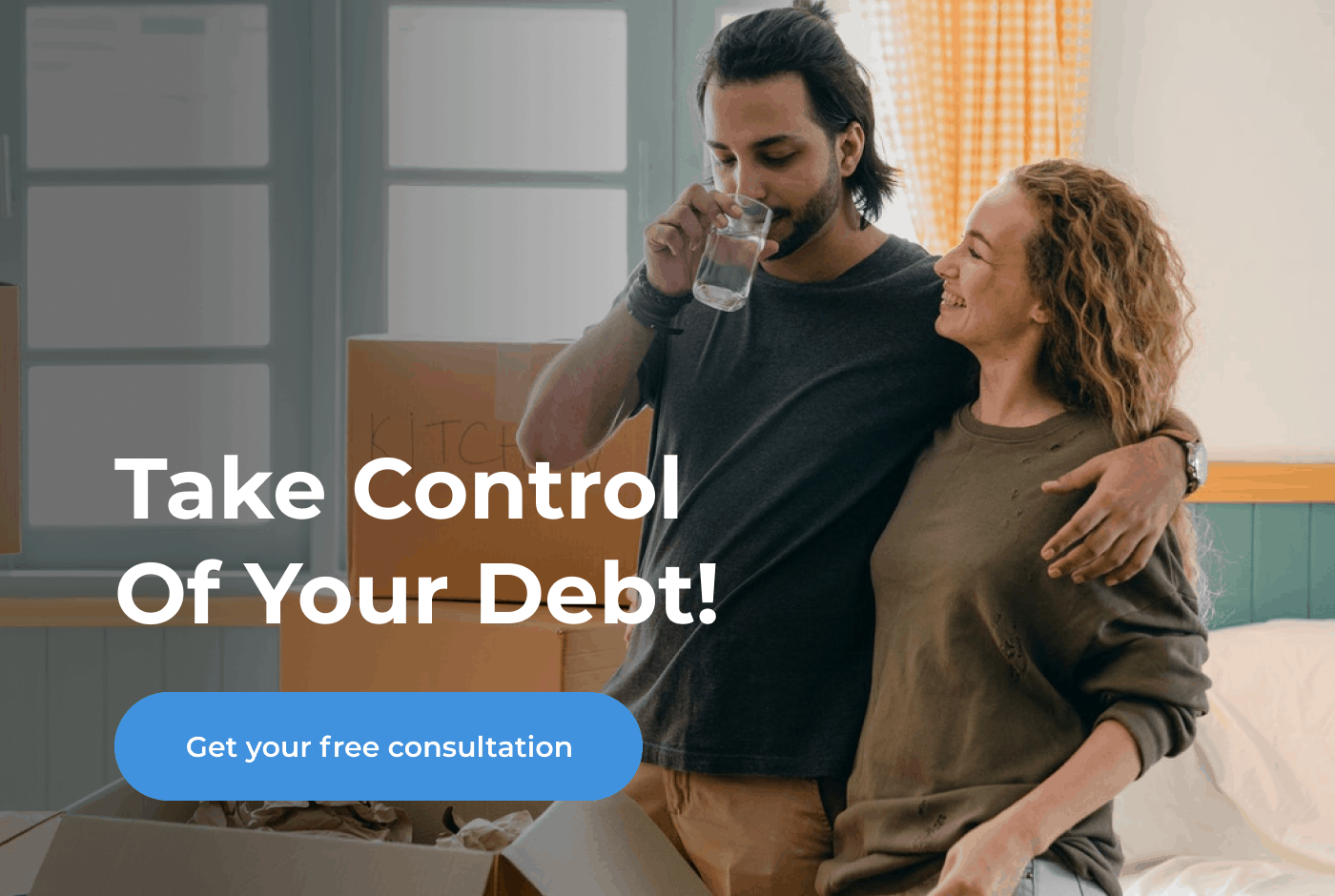 Now this is where the process of debt settlement can be a little risky. Because the lenders and creditors are no longer receiving payments, the borrower will become delinquent on the accounts, which can result in late fees being charged, additional interest penalties, and a significant drop in credit score if reported.
This is all part of the plan as National Debt Relief will then step in and negotiate with the lenders and creditors in order to reduce the payments. Since the borrower has stopped paying the debt, it's possible and likely for the lender to agree to taking a reduced amount instead of risking no more payments at all. Read on to learn more about what the pros and cons of National Debt Relief are.
National Debt Relief Application
You can apply for the National Debt Relief program through their quick and easy to fill out online form. Once you fill out the application, you will benefit from the follow:
Receive A Free Savings Estimate
Learn How to Get Out Of Debt Without Bankruptcy
See How Quickly You Can Become Debt Free
No Upfront Fees And No Obligation to Start a Debt Relief Program
National Debt Relief Login and Client Portal
Once you've signed up, you can easily manage your account online with your national debt relief login. This will give you access to the online client portal, where you can view payment distributions and balances for debts enrolled in the program. Clients can also use the online portal to track where their payments are going and how quickly they are paying off debt.
National Debt Relief: A Review of Timeframe, Savings, and Cost
Once the debt settlement process has begun with NDR it can take a while to get all the funds paid down.
Even the negotiation process and review from National Debt Relief (NDR) may take a few months before it even gets started. On average the entire process should take around two to four years to complete. As stated above the average cost is roughly between 15% and 25%.
In 2010, the Federal Trade Commission made it illegal for debt settlement companies to charge upfront fees so this fee will only be collected when the debt is settled. Even when factoring in the fees, National Debt Relief claims that their clients save around 30% of their debt once they have completed all payments.
Potential Risks of Debt Settlement with National Debt Relief
Although National Debt Relief historically has a positive track record of reviews when settling debt for their clients, there are still some risks when entering into a debt settlement agreement. Even if National Debt Relief gets the best case scenario and achieves all of its goals, there will still be some consequences for the client.
Credit Score Hit: The very first step in the negotiation process of a debt settlement plan is withholding payments on the outstanding debts. As a result the late payments will show up on the borrower's credit reports and their credit score can drop pretty significantly. This is especially true if there are multiple payments to different creditors and lenders. With all of them recording the payments as late or delinquent the damage could be potentially catastrophic.
It May Not Work: There is no guarantee the creditors will work with National Debt Relief, and as a result a debt collection agency could be hired or a lawsuit could possibly be filed by the creditors as well. With unsecured debt there is no collateral being offered up in the case of failure to repay, so often a creditor will sell the debt (generally for pennies on the dollar) to a debt collection agency, and they will then own the debt and come after the borrower. Once a debt has been bought by a collection agency, the penalties on the borrower's credit report will be more severe than just late payments, so if it ends up that way, the borrower could be in much worse shape than when they started the debt settlement process.
Interest and Fees: Once the debt settlement process has begun, the debt account will become or stay delinquent which will almost certainly accrue additional interest and late fees. If a borrower does not stick with the process until completion, or if National Debt Relief cannot negotiate a settlement that includes lowering or removing these fees, then the borrower may end up paying much more than the original balance with these fees adding in.
Taxes: Anytime a debt over $600 is forgiven, the IRS considers this taxable income. So even in the event of a successful debt settlement, whatever the amount that is saved with then be taxed. One potential exception is if a borrower is insolvent, meaning their liabilities exceed their total assets at the time the company settles the debt. While the taxes will be less significant than paying the whole amount it could still be quite a large amount of money depending on the size of the debt and could get the borrower in trouble with the IRS should they fail to pay.
Is National Debt Relief legit?
National Debt Relief is a legitimate debt settlement company with a BBB A+ rating that assists consumers in getting out of their national debt problems without the use of loans or bankruptcy. It has a team of certified debt arbitrators from the International Association of Professional Debt Arbitrators. National Debt Relief is also a member of the American Fair Credit Council, whose members agree to abide by an industry code of conduct.
National Debt Relief Phone Number and Customer Service
With a thousands of 5 star reviews on Google, as well as BBB A+ rating, National Debt Relief customer service is among the best. You can reach customer service at the following National Debt Relief phone number: 1-800-300-9550.
National Debt Relief Reviews Show Millions Have Received Debt Relief
National Debt Relief is a debt settlement company that negotiates with creditors and lenders in order to help lower the amount of debt their clients owe. While risky and not without consequences millions of people have successfully used this service to save money while getting out of debt.
Any time someone is attempting to achieve debt settlement it can be very risky. Many people often attempt this process on their own with varying degrees of success.
Final Review: Is National Debt Relief the Best?
National Debt Relief has a long history of achieving their goal of reducing a debt owed and is staffed with certified professionals who specialize in debt settlement. Despite risks and consequences the services that National Debt Relief offer are among the best, and should absolutely be considered by anyone meeting their qualifications who need help with debt relief.
Need expert financial advice?
Let TurboFinance connect you with the best consulting services and resources to help you take control of your finances and find a path to build wealth.
Get A Free Consultation Today!