Military and Veteran Debt Relief: Help and Options
Posted on June 23, 2021 in Debt
Military personnel face the weight of the world during times of unrest in the world. While they're off fighting for our country, their bills are piling up. The last thing they need to be concerned with is how to pay their bills. If you need military or veteran debt relief, please know that help is here for you.
---
---
Debt Relief Solutions for Veterans
There are options for military personnel who are having a difficult time managing their finances. Recent surveys suggest that 35% of military personnel serving say they do not pay their bills on time, 54% say they are just getting by when it comes to their finances, and 86% say they worry about their personal finance situation. This is a concern, and the federal government has programs in place to help with military and veteran debt relief.
Military Debt Consolidation Loan
Military members who have VA home loans may only hit a temporary wall when it comes to their finances because you qualify for a Military Debt Consolidation Loan (MDCL). This is also known as a VA Consolidation Loan. The MDCL works similar to debt consolidation loans in that you take out one loan to pay off all of your unsecured debts (credit cards, medical bills, etc.) and make one single monthly payment to one lender, rather than having to make multiple payments to all of your creditors. This is a cash-out loan where you refinance for more money than you need to pay off your debt, but you take the difference in cash.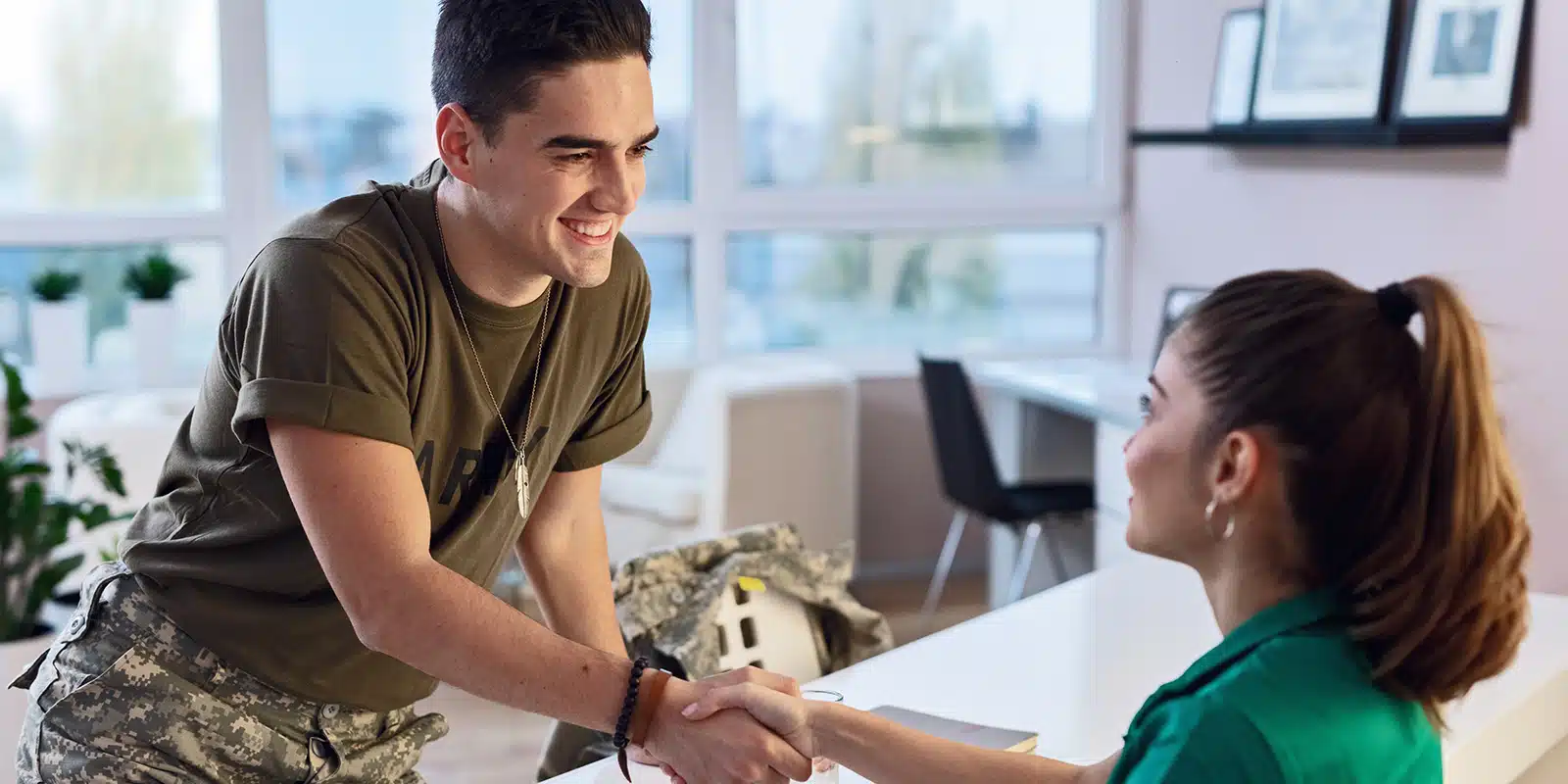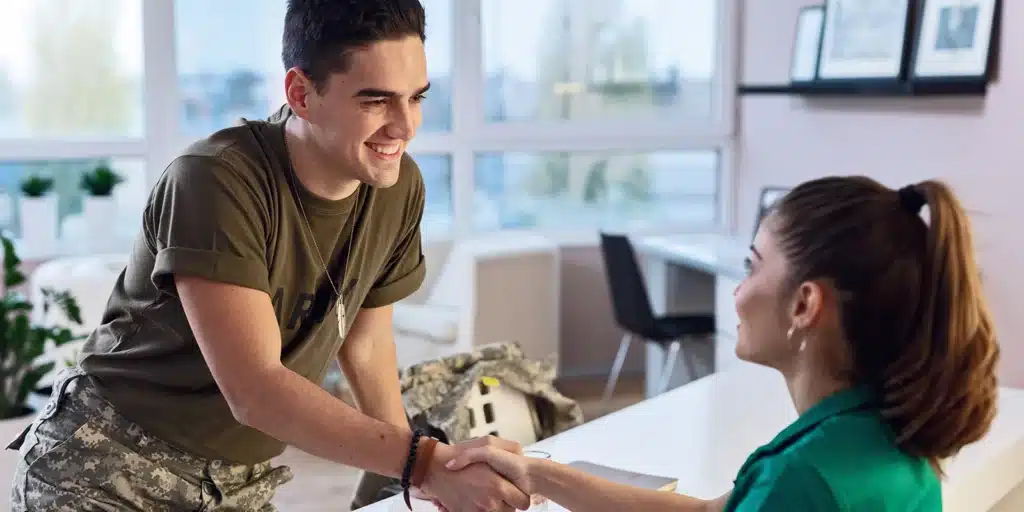 There are some stipulations to this loan: the loan cannot exceed the appraised value of your home; there is a limit as to how often you can take out VA loans, and closing costs are involved. If you feel as though you are a military member or veteran drowning in debt, this can certainly be an option to consider. Make sure to take advantage of free debt relief quotes before coming to a final decision.
Advantages of Military Debt Consolidation Loans
Veterans typically pay a lower interest rate on consolidation loans and less in closing costs compared to civilians.
The loan can be spread out anywhere from 10 to 30 years, giving you more options for repayment.
Disadvantages of Military Debt Consolidation Loans
You will lose equity in your home and have more debt.
Will have to pay closing costs.
You must meet certain criteria to qualify for the loan.
Your home becomes collateral, and you can lose it if you default on the loan.
Avoiding Foreclosure
There are other debt relief options available to assist in helping military service members avoid foreclosure, that include:
Loan Modification
With a loan modification, the lender changes the term of your loan and rolls the delinquent payment into a new balance. This begins a new payment schedule and keeps you from having to foreclosure on your home.
Special forbearance
A special forbearance could be granted if the service member is behind on house payments but expects cash in the immediate future. If granted, the bank will temporarily suspend payments on your mortgage to help you avoid foreclosure.
Repayment Plan
If a service member is behind on his mortgage, they could negotiate with the bank to incur a little extra in future payments to catch up on missed payments.
Short Sale
With a short sale, the lender would receive money from the VA to offset selling the home for less than is needed to pay off the loan.
Deed in Lieu of Foreclosure
With a deed in lieu of foreclosure, the service member deeds the home to the lender and avoids going through the foreclosure process.
Postponing Foreclosure
Postponing foreclosure may be an option if the lender agrees to allow the service member time to sell the home and pay off the loan.
Veteran Debt Relief Grants
Balance Transfer Card
For some, the biggest problem may be keeping credit card debt under control. Credit cards are great for helping us out of financial binds, but if not managed appropriately, they can cause us to be in a financial crisis. Balance transfer cards can help with this as a form of military or veteran debt relief. Many banks offer 0% interest with a transfer fee of anywhere from 3% to 5%. This could be a good option to release yourself from some of those high-interest credit cards, while also improving your credit report. You may also be interested in: How to fix my credit myself.
Debt Management Program for Military & Veterans
You may be able to reduce interest rates and monthly payments through a debt management program. A military or veterans debt management program is not a loan but a plan to work with creditors to reduce your monthly payment and interest rates. With the help of a debt management company, an affordable payment plan without penalties is agreed upon so you can continue to pay your bills more affordably without the threat of default. This helps military members or veterans manage debt better and take control of it when they feel like they're drowning.
Debt Settlement for Military & Veterans
Similar to a debt management program, debt settlement can help ease the strain for members of the military or veterans through a single lump sum payment. In this case, debt relief is achieved through a third-party debt settlement company who can professionally negotiate with creditors on your behalf to help reduce the total debt amount. Results can vary, but often military and veteran debt relief through settlement companies can be achieved with almost 50% of debt forgiven. This option may have you asking yourself, "is being debt free worth damaging my credit score," but freeing yourself to be able to save money again and build wealth can certainly be worth it.
Other Military & Veterans Options for Debt Relief
Military families often incur debt due to no fault of their own. Moving frequently and the pains that come along with it, like lack of employment opportunities for spouses, can cause financial distress to the entire family. Many non-profit organizations understand this and are willing to work with military families to assist in debt relief efforts during their time of need. Some include:
Army Emergency Relief
Navy/Marine Corp Relief Society
MilitaryOneSource
Operation First Response
USA Cares
Air Force Aid Society
Coast Guard Mutual Assitance
Disabled American Veterans
FAQs About Military and Veteran Debt Relief:
Can the VA help with debt? The Department of Veteran Affairs offers the VA Loan Compromise. If you have a VA debt because of a home loan guaranty, education loan, or accidental overpayment of benefits, check to see if you qualify for this.
What is VA debt relief? VA debt relief is a series of programs developed for military personnel to help them with their debt, including their mortgage and student loans.
How do I get my VA debt forgiven? Veteran debt forgiveness is only applicable with student loans. Many options are available to military service members and veterans that may erase all or part of their student loan balance. Public Service Loan Forgiveness, DoD Loan Repayment, National Defense Student Loan Discharge, and Veterans Total and Permanent Disability Discharge are just a few of them.
Does the military have debt relief? Yes, the government offers many debt relief programs that are helpful to military personnel if they are having difficulty paying their monthly bills on time or feel like they're drowning in debt.
Find Military and Veteran Debt Relief Today
Need expert financial advice?
Let TurboFinance connect you with the best consulting services and resources to help you take control of your finances and find a path to build wealth.
Get A Free Consultation Today!