Is a Payday Loan Secured or Unsecured?
Posted on December 5, 2022 in Debt
Payday loans are considered a form of "unsecured" debt, which means you do not have to give the lender any collateral in exchange for this short-term loan. Read on to get the full picture on secured vs. unsecured payday loans, or use our table of contents below to jump right to it.
---
---
The payday loan industry in the US is worth $9 billion. Payday loans can offer you a quick fix if you're cash-strapped and in an emergency without any hustle. And that's why most people love taking these loans.
However, payday loans are not as good as they seem. While they may help you when you're in a fix, they are usually expensive and predatory and might leave you in an unending cycle of debt.
In this article, you'll learn all you need to know about payday loans and whether payday loans are secured or unsecured.
Let's get right into it.
A Payday Loan: Unsecured debt
Payday loans are unsecured personal loans. You do not need to back them up with any form of collateral. It makes them convenient for you since their risk is low. All you have to do is to convince the lender that you'll pay up the loan in your next paycheck. But it isn't as simple as you might think.
Because the lender runs a high risk of losing their cash by lending you the money with zero collateral, they charge high-interest rates. As a result of the hefty charges, if you aren't careful, you may end up trapped in a never-ending debt cycle. What started as a cash relief can result in a debt burden.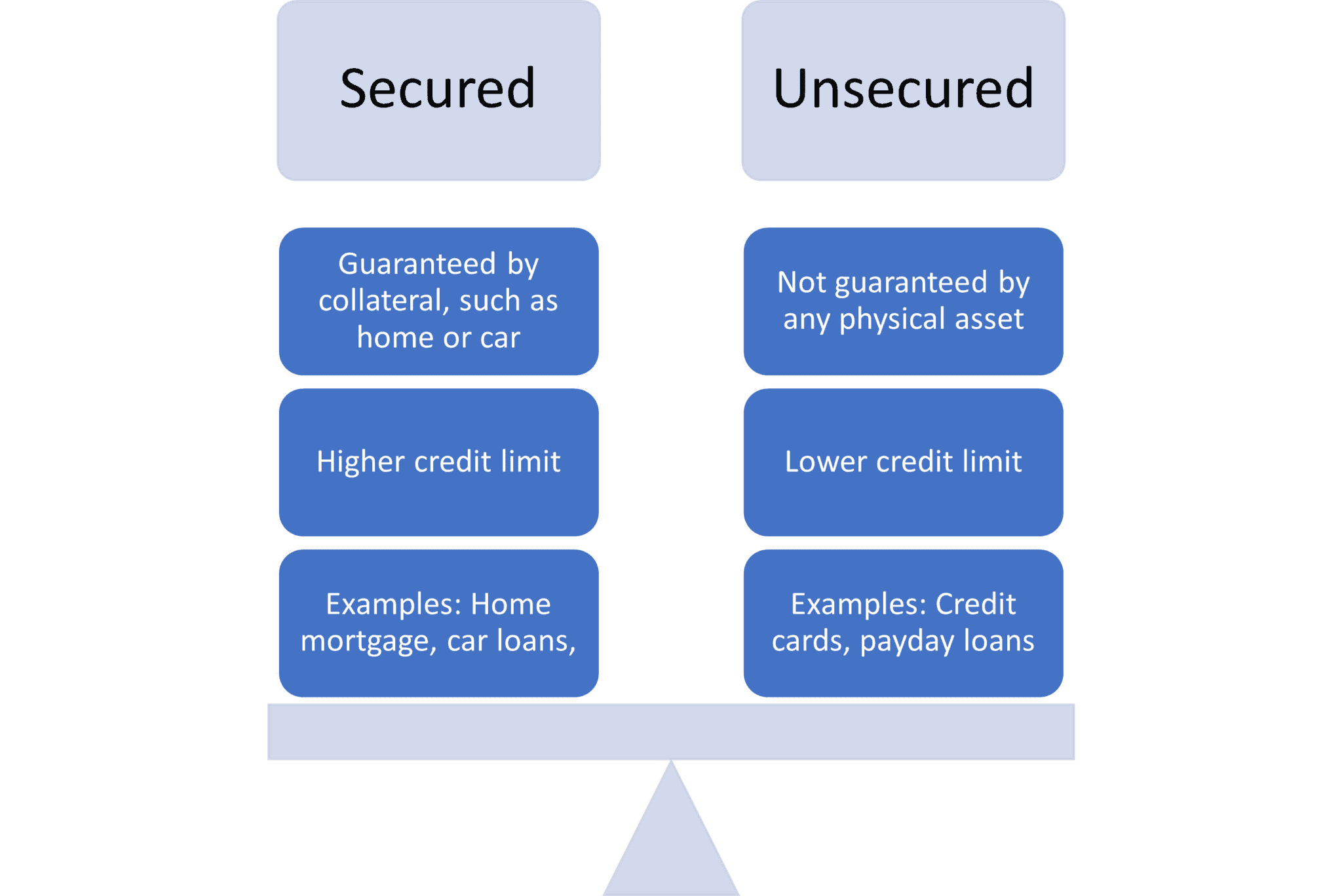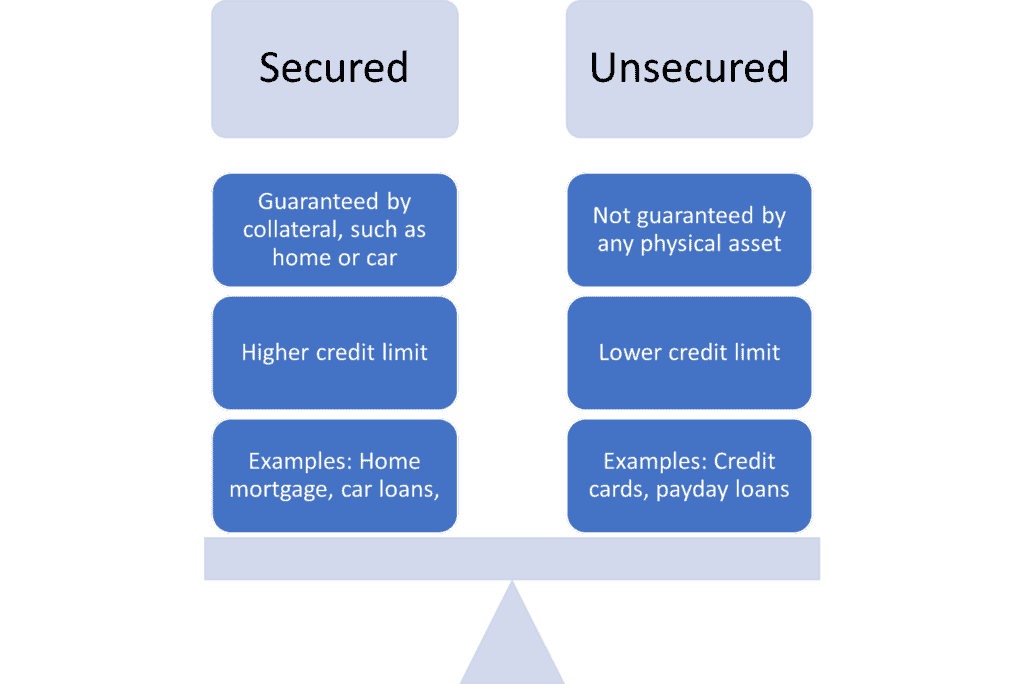 What are Secured Loans?
Secured loans are those backed up by collateral, and this is usually a key difference when comparing payday loans vs personal loans. The collateral can be your house, car, or a cash deposit. Offering collateral is a way to gain your lender's trust that you're willing to repay your loan or lose your collateral, thus, lowering the risk of the lending institution.
To qualify for secured loans, you must have a good credit rating. You can take them for large purchases like a car or a house. Like other types of loans, secured loans have advantages and disadvantages. Here are some of their benefits and drawbacks.
Pros of Secured Loans
They offer a lower interest rate making them affordable to pay off.
The rate of approval is higher because of the collateral you're offering.
You'll likely qualify for large cash loans ranging from $1,000 to $50,000. Some lending institutions can go to as high as $100,000.
It is easy to plan their repayment since they have fixed monthly payments.
Cons of Secured Loans
Once you qualify for the loan, you can only use it for the purposes you took it for; thus, they're stricter on using it.
You risk losing your home or car- if you place it as collateral when you default on the loan.
You also risk ruining your credit rating if you default on the loan, as activity associated with secured loans is reported to the credit bureaus.
You may opt for an unsecured payday loan because;
You're uncomfortable with the disadvantages that come with it.
You have a low credit rating making it difficult to qualify for a secured loan.
So, let's understand the dynamics of an unsecured payday loan.
How do Unsecured Payday Loans Work?
Payday loans are personal loans, the type of loans you take when you've nowhere to turn to for quick cash relief. The time frame of paying them back is in your next paycheck within two or four weeks.
Below are considerations lenders make before lending you money.
How Do I Qualify for an Unsecured Payday Loan?
Since payday loans are unsecured, lenders tend to consider the following requirements. They help them gauge how much they're willing to risk lending you.
Employment status– you stand a high chance of qualifying for an unsecured payday loan if you're employed. They also consider your type of employment since military personnel and their co-dependents have a limit of 36% on their APR.
Access to your credit account– you can provide electronic access to your credit account or write a check to your lender. It will assist them in deducting or withdrawing money when payday arrives. Ensure your bank account has the required amount to settle the debt entirely. This will avoid overdraft charges by your bank or credit union.
Debt to income ratio– you have to present your current pay stubs to the lender. It will help them calculate how much to lend you in the short term. However, most of them don't consider if you'll be able to repay on time. This is because late repayments attract extra charges and penalties to you.
Here are some advantages payday loans offer.
What are the Advantages of Payday Loans?
You can apply for a payday loan when you're in an emergency and have no cash. Here are some of its benefits;
You can use the money borrowed for whatever purpose, as there are no restrictions on its use.
You face zero risk of losing anything since there's no collateral for a payday loan.
The loan approval rate is faster. You can also apply online through online lenders.
Even with a low credit score, you stand the chance of qualifying for a payday loan. It's because lenders don't refer to your credit score.
What are the Disadvantages of Payday Loans?
Though accessing payday loans is easy, paying back the cash can be hectic because of the following reasons;
The APR is exceptionally high. It can vary from 36% to 400% and even 700% depending on the time it takes to repay the loan. This makes it hard for you to get out of such loans. You might end up rolling over your payments, resulting in more penalties. Instead of APRs, some lenders charge a flat rate of $15 for each $100 borrowed.
The repayment period is short, making the planning of repayment difficult.
Most lenders offer a maximum of $500 in debt. It's small, considering the repayment period and the interest it'll accumulate.
The lender may fail to update your credit report once you're through with the loan, but if you fail to pay up, they're fast to take you to debt collectors. This can affect your credit score negatively.
However, the laws governing payday loans vary from state to state, and some states prohibit payday loans. You can visit the CFPB to learn more about whether your state prohibits payday loans and the regulations governing payday loan lenders.
Payday loans aren't for everyone. Before you get in over your head with payday loans, or if you can't sustain a payday loan, consider the following alternatives.
Six Alternatives to Payday Loans
If you're asking whether or not a payday loan is secured or unsecured, you're likely looking to borrow money. There are various ways of coming up with cash in an emergency. Payday loans aren't the only option. Besides, their interest rates are high, so you should avoid them. If you're in no position to repay them, consider the following types of personal loans.
i. Paycheck advance app
Paycheck cash advance apps offer the same services as payday loans. The beauty of these apps is that they charge a small monthly fee, and others will ask you for a tip. These apps have their requirements. You should check them out before borrowing blindly, and always understand the potential impact on your credit score.
ii. Consider a secured loan
As mentioned earlier, a secured loan, such as installment loans, have low-interest rates and a realistic repayment schedule. You can go for them if you own a car or house. Just make sure you check the repayment amount, and pay them back on time to avoid repossession. If you see you won't be able to make timely repayments, consider asking for a hardship program.
iii. Borrow from friends and family
If you're in a tight spot, reaching out to friends and family for help should be your first instinct. It's easier to borrow from them if you've got legitimate reasons. Also, your ability to repay them is easy since they'll require zero interest; some might not want the cash back.
iv. Break the piggy bank
If you're a consistent saver, getting a few dollars out won't hurt to cater to your emergency. Besides, what good are your savings if they can't help you in such instances?
v. Take on a gig
Countless opportunities have exploded during the pandemic. They are part of the gig economy. All you have to do is sign up for extra work when free. It includes running deliveries for DoorDash or shopping for Instacart.
vi. Cut down your spending
The best way of minimizing your expenditure is by cutting back on unnecessary costs. You should sit down, analyze your spending habits, and decide what expenses to cut. It can be;
Downgrading your insurance policy
Minimizing your luxury spending
Reducing your telephone bills and other reducible bills to save more.
FAQ's
What type of loan is a payday loan?
A payday loan is an unsecured loan. It requires zero collateral.
How are payday loans secured?
Your next paycheck secures payday loans. It can be within two to four weeks.
Is the payday loan variable or fixed?
Payday loans have a fixed rate. It is true since you can easily calculate the total amount to pay off at the beginning of the loan period. This amount will not change at the end of the repayment period.
What loans are unsecured?
Unsecured loans don't require any collateral. However, they charge interest rates and sometimes transactional fees. They include payday loans, student debt, and personal loans.
Conclusion on is a Payday Loan Secured or Unsecured Debt
Payday loans can offer you a quick way out of economic hardship. However, due to their interest rate, these unsecured personal loans can lead you into to a never-ending debt trap. It's key to fully understand how they work to avoid getting into a cycle of debt, and looking for ways how to stop payday loans.
You can access other alternatives to payday loans to avoid this debt cycle. I hope you consider the different options discussed above for a debt-free life.
Need expert financial advice?
Let TurboFinance connect you with the best consulting services and resources to help you take control of your finances and find a path to build wealth.
Get A Free Consultation Today!